ThatPainter is reader-supported. When you buy through links on our site, we may earn an affiliate commission. Learn More

Your garage floor leaves a lot to be desired? We've been there, and the best solution turned out to be sealing it. And we did it ourselves to save money and have a full control over the process. But how to seal a garage floor? What's the best sealer? Gather up your questions and get ready to receive clear answers!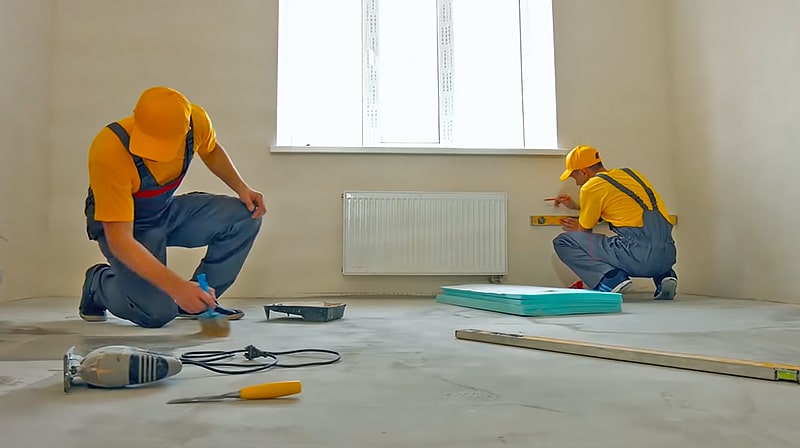 The problem with online tutorials and guides is that they're too vague, there are no product recommendations unless it's an ad. We've read a lot of such tutorials before sealing our way. So, this article is here to fill the niche and help anyone struggling with their garage floor. If you do everything properly, any old dusty place can turn into a showroom!
What You Will Need to Seal a Garage Floor + Our TOP Product Review
The main thing you will need for the mission is a nice sealer of the right color. You need something that won't start cracking or peeling in the next several years. Gladly, we have just such a product in mind.
Seal Krete Epoxy Seal Low VOC Concrete & Garage Floor Paint
See More Images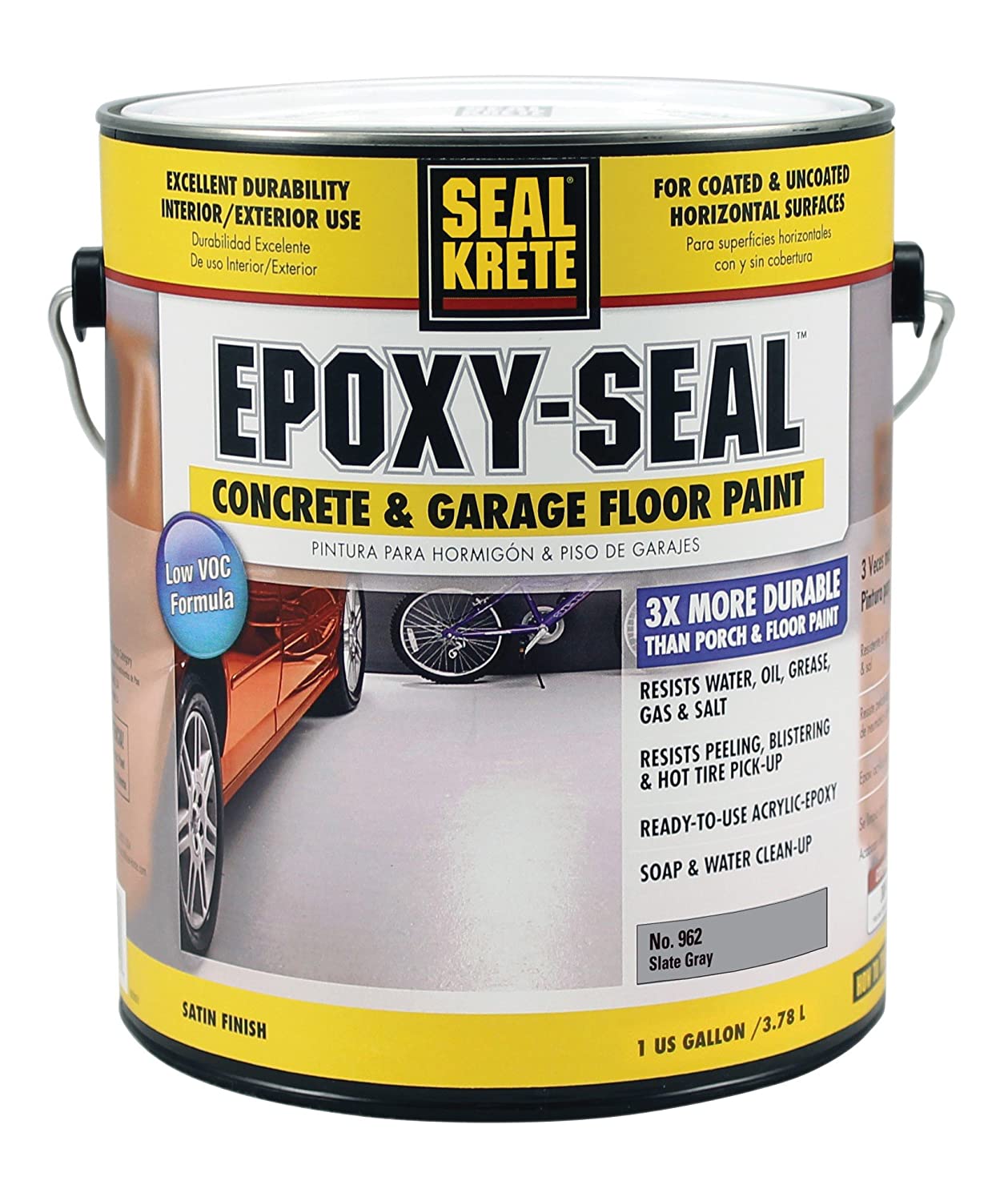 This is an epoxy sealant for garage floors in slate grey. We found this color not too dark and not too light, but you can choose another one. This line has a lot of grey shades so you can pick something that would match your garage design.
This is a low VOC (volatile organic compounds) option, meaning it doesn't bring harm to humans and the environment.
Here are main benefits of this product:
Durability. Seal Krete epoxy is three times more durable than a regular garage floor paint. It will last for ages if you apply it correctly. The key here is no moisture or grease on the floor before applying.
Low VOC. Low volatile organic compounds means environmental safety and no harm for your health. In any painting products, aim for low or zero VOC. You can find this information on the package.
UV resistance. This might seem not important for a garage floor, but UV radiation can get even there. This sealant resists radiation, which helps it keep form for longer time.
Damage and water resistance. This formula resists water, grease, oil, salt, and even gasoline stains. All this adds to its durability and performance. You also get peeling and blistering resistance, and even a hot tire pick-up prevention. Take note, though, that you should use it only on horizontal surfaces to get all the benefits.
Easy to maintain. This cover allows for a simple soapy water cleanup. You won't need to buy special cleaners anymore to maintain your garage floor.
Versatile use. This is a universal sealant you can use both outside and inside. So, if there's any other horizontal surface you need to seal, this is a great option to cover all your needs. It's good for shop floors, driveways, basements, porches, etc.
Ready-to-use. You don't have to mix it with anything, this is a ready-to-use formula. Very convenient, especially if you're in a hurry or aren't a fan of mixing solutions to get paint, sealant, etc. Suitable for beginners as well!
One seeming drawback is that this product is only for horizontal surfaces. However, it's clearly stated on the package that it's specifically for floors, garage ones in particular, so we don't mind.
A gallon of this sealant should be enough for 500 sq. ft. at maximum. However, some reviews state that if your floor is chuffy and uneven, you'll need more.
Note: Seal Krete epoxy sealant dries the touch in about 2 hours, depending on the weather in your area. You can walk lightly on it after 24 hours. But traffic is only allowed after 5 days or even more.
We loved testing this product due to its versatility, nice color, and ease of use. It's ready right out of the box and isn't toxic, which is a huge advantage. You'll only have to deal with a little bit or odor from it for a week or so, but it's nothing too sharp.
What Else Is Needed for Garage Floor Sealing
Here are some other things you'll need:
A paint pad/roll;
A hand brush;
A concrete cleaner;
An oil remover;
A broom/leaf blower;
A scrubbing brush;
Paper towels;
Some concrete (optional);
A painting tray.
Remember that you'll also need space to store everything that was in your garage, a lot of time (about a week), and a bit of inspiration.
How to Seal a Garage Floor: Step by Step
It seems quite easy, like you just have to apply a sealant, right? That's partially true, but we know some details that will help you achieve the best result that will last for years. Follow this step-by-step to do everything perfectly.
Step 1: Choose a Sealant Type
There are 4 types of floor sealants:
Epoxy;
Polyurethane;
Acrylic;
Silane/siloxane.
The first three form a film on the floor, closing all pores. They give a wet, glossy look to the surface. Results look better and are very easy to clean, you can just wipe it. However, to use epoxy, polyurethane, or acrylic sealants, you need to prepare your floor with extreme caution, cleaning every tiny stain. Even the smallest piece of debris might ruin your work. Such covers also may be slippery, so choose at your own discretion.
Silane/siloxane solutions don't create a protective film. They penetrate the floor and react with it to create hydrophobic formulas. It will successfully resist water, salt, and other harmful substances if applied on every inch of the floor. It doesn't change colors or give your garage a shiny floor, though.
Step 2: Clean and Repair the Floor
Take this step seriously, because the quality of your cleaning equals a good grip and satisfying results.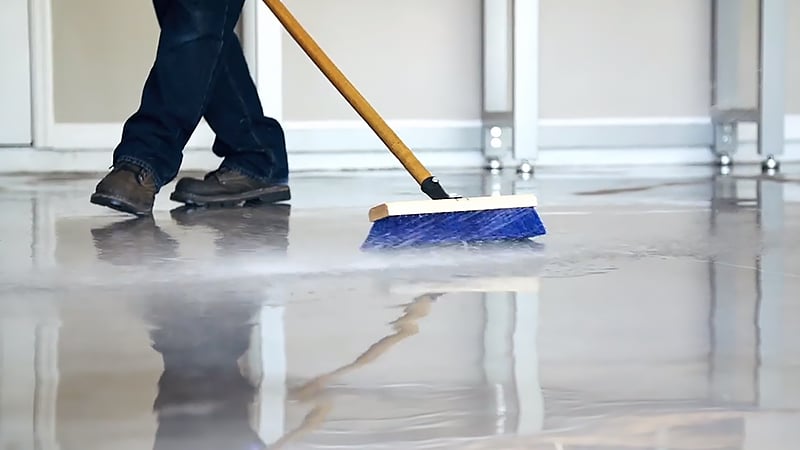 Here's a tiny crash course in cleaning floors:
Sweep the dirt and debris or blow them with a leaf blower. It's better to do it several times to get rid of as much dust as possible.
Scrub every stain off with a cleaner. Use mineral spirits or trisodium phosphate. There are special pre-paint cleaners that work well with oil stains. Be sure to remove all oil stains from the floor. Even an old, seemingly not dangerous stain may jeopardize the whole process. Oil won't allow for a good grip between the surface and your sealant.
Use paper towels to remove excess moisture and cleaner residue. If using a drying cleaner, skip this step.
Here are some tips on cleaning your garage floor prior to sealing:
Remove everything from the garage;
Clean the whole floor at once before sealing;
If you're moving into a new home, seal beforehand;
Take note that the process may take a week or even longer before you can put stuff in your garage.
Pay attention: If you have a penetrative sealer, it's fine to apply it while the surface is still a bit damp. They don't need to be applied twice, so make sure you get enough. Otherwise, there will be white residue left upon drying. Topical sealers should be only applied on a completely dry, degreased surfaces. They might require a second coat but you shouldn't apply too much as it may get bubbly and flaky.
Wait for 24 hours so the floor dries completely. You may need to give it even more time, it's better not to rush here.
If there are cracks or small holes, repair them with concrete. Put some into a tube and fill every crack for better sealant application and result. Smooth it with a trowel and make sure the floor dries again before moving to the next step.

Some people use the sealant to fill cracks and holes, but it may become bubbly and lose form over time, so it's better to use concrete.
Step 3: Mix (Optional) and Apply Sealant
Before doing anything, read manufacturer's instructions on the package. You have to follow them precisely, even if they contradict your knowledge about floor sealing. Different brands have their own techniques that allow for the best result. Check for the info on:
Floor condition suitable for application;
Room temperature and humidity;
Weather conditions;
Mixing instructions (optional);
Safety precautions.
You may need to mix two or more ingredients to make your sealant ready to use. The one we reviewed is epoxy yet comes as "one piece". But remember that most epoxy products come in two parts. Also, remember that you may need to do the work quickly as the solution might dry very fast.
Here's how you apply the solution:
Pour some into a painting tray;
Dip your brush, roll, or pad in the tray;
Paint a line, don't forget about the edges and corners;
Paint another line alongside and continue until you're finished;
Add more sealant when you need it for a full, even layer;
Do a second layer as mentioned in manufacturer's instructions (this might be a couple of days later).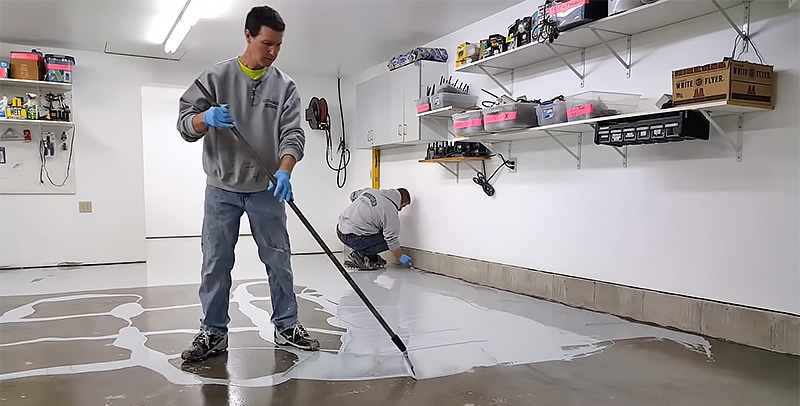 Tips for applying the sealant:
Ventilate your garage properly. The product we reviewed only has minimal odor but it's still there and may make you dizzy;
Never skip instructions and safety precautions. Not only the result depends on them but your health and effort as well;
Use a hand brush for corners and edges of your garage to distribute the product evenly;
Divide the room in 4 parts in your mind and work with one part at a time, always leaving a way out so that you don't have to walk over a freshly sealed floor.
Pro Tips: A FAQ on Floor Sealing
Here are some bits of knowledge that we've gathered based on the most frequently asked questions. There are mostly about concrete floors.
Will sealing work for an old concrete floor?
Sure, and you should do it to prolong the life of your floor.
Dust keeps forming on the floor due to excess use. Will sealing help?
Any film-creating sealant will help with the problem. However, make sure you get rid of all dust before using one.
If my floor is painted, can I just seal over it?
This depends on the sealer, but you can consult a specialist and buy a special product that will go well over the paint.
Should I sand the floor before applying the sealer?
No, cleaning it thoroughly will work just fine. Usually, concrete adheres well unless you waxed it.
Can water-based sealants be used for outdoor surfaces?
Yes, if it's completely dry and there is no rain until the cover dries completely.
Should I seal concrete floors at all?
It's not obligatory since concrete is quite tough by itself. But it also has a lot of pores and water, dust, salt, and chemicals may expand and damage them, making your floor deteriorate. Who needs cracks and holes in their garage? By sealing the floor, you close those pores and prolong your concrete floor life for years to come.
Conclusion
As you can see, sealing a garage floor isn't too difficult if you have a high-quality sealant, handy instruments, and a clear guide. Of course, if you have no experience whatsoever, it's better to contact a specialist for the best result. But if you want to save money and do something yourself, this is your chance.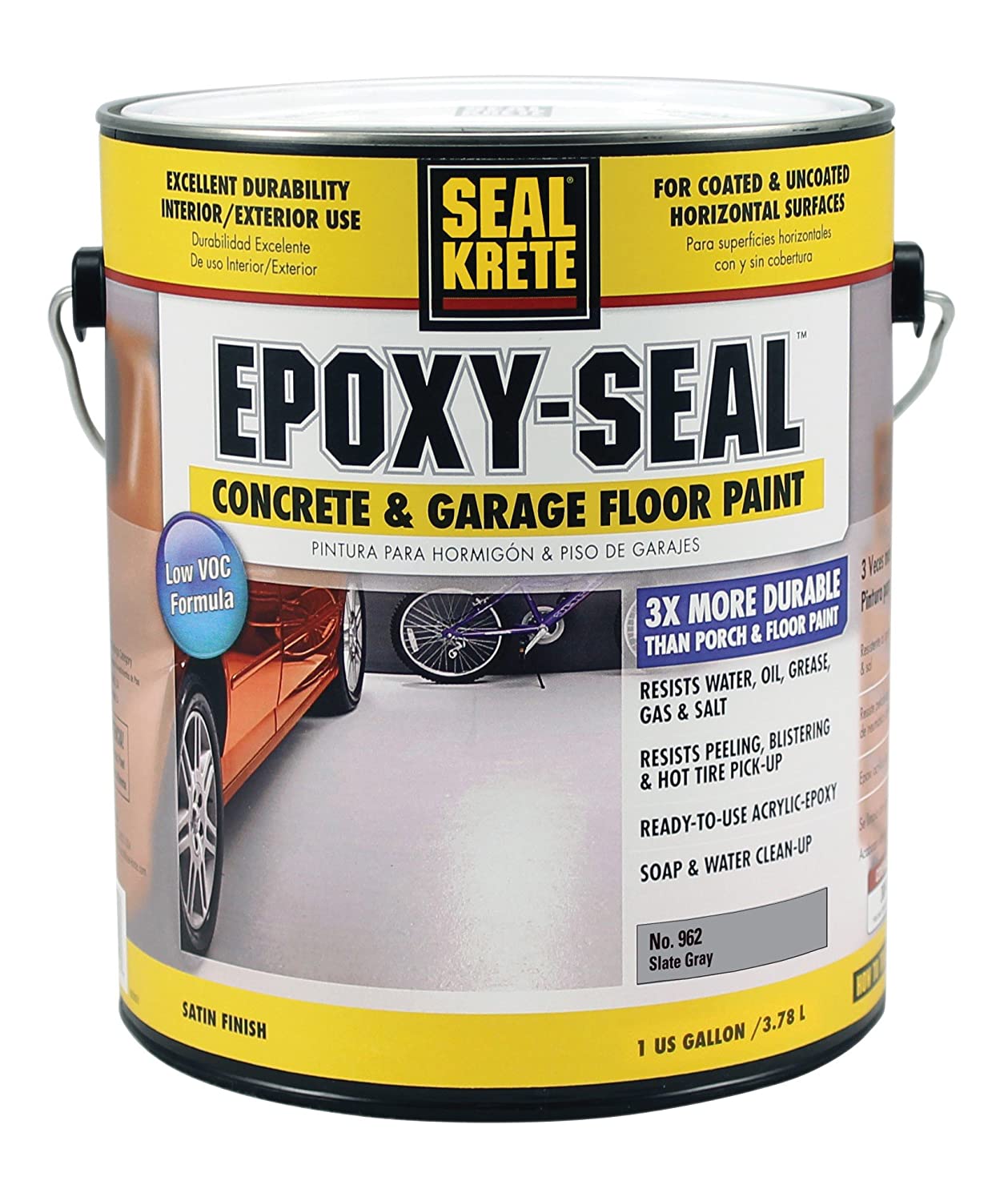 Seal-Krete Epoxy-Seal Low VOC Concrete & Garage Floor
3X more durable than Proch & Floor Paint
Low VOC formula
Resists water, oil, grease, gas & salt
Check Price


We did our best to include all details in this tutorial. How did you like it? Have you tried the product we reviewed here? Let us know in the comments! Also, if you find this article interesting and useful, share it with your friends! Let's make life easier together.
Richard Jenkins is a 33-year-old Professional Painter that applies paint on the interior and exterior surfaces. Qualified in painting technology knowledge, physical fitness, stamina, teamwork, and attention to safety. Read More.