ThatPainter is reader-supported. When you buy through links on our site, we may earn an affiliate commission. Learn More
You should never paint concrete while it is wet, and that isn't just because it will be awkward to do so.
It's very important that the concrete is dry before painting over it, or else the paint won't stick properly, and you'll have issues with it down the line.
If the concrete is wet, or even just slightly damp, the paint won't be able to grip onto the surface properly, and it, therefore, will be prone to peeling off after a little time, making the paint completely ineffective, and the job a complete failure.
The paint might also start to peel off in patches, so the concrete surface will look uneven, worn, and overall will not be in good condition.
That is why it is super important to ensure the concrete is 100% completely dry before applying a coating of paint. If it rains, for example, you should on average allow for a full 24 hours before painting, so that you make sure it has had enough time to dry.
It is also why you have to be aware of the weather conditions before painting a concrete surface, as you have to time it so that there is no rain, and so that it is warm enough for the paint to be applied properly, and for it to then dry fully.
So basically, if you paint wet concrete the paint will not be applied properly, as it won't grip onto the surface as well as it should. Therefore, the paint will likely begin to peel off after a little time, and the paint job will essentially fail.
How do you know if concrete is dry enough to paint?
Okay, so it's super important to make sure concrete is completely dry before you start painting it, or else the paint won't stick properly, and it will start to peel off very quickly.
But how do you know if the concrete is dry enough and ready to be painted? How much time do you have to let it dry? And what if it's just a little bit damp? Let's get right into it!
There are some obvious ways of knowing if the concrete is dry enough, such as touching the surface to see if it feels wet, or waiting an appropriate amount of time after a rain or other weather conditions, to be certain that it's properly dry.
But moisture and dampness, on the other hand, can be pretty hard to spot, and therefore can't be confirmed simply by looking or touching.
Instead, the concrete floor will have to be tested for dryness, which is something that professionals almost always do, in order to ensure that the job can go ahead successfully. This test, which has been used since the 1960s, and is still the most reliable way of testing the dryness of concrete, in order to start painting over it.
What the test does, is measure the moisture within the concrete, by using situ probes. These probes are sensors, inserted into the concrete at different specific depths so that they can pick up the amount of moisture trapped inside.
So, for example, if the slabs of concrete are only drying on one side, the sensors are inserted at a depth of 40% of the overall thickness. And if the slabs are drying on both sides, then the sensors are inserted at a depth of 20% of the overall thickness.
These probes then need to be left for quite some time, so that they're properly calibrated, and so that the results are reliable enough. Usually, they will be left for 24 hours.
If you don't have the means to test the concrete, then you won't be able to know 100% for sure whether it's completely dry or not, so beginning the paint job will always be a bit of a risk.
But if you've allowed for a good 24 hours after washing the concrete, and it's nice and warm and sunny, then chances are the concrete will be dry, and it should be completely fine to paint over!
How warm does it need to be to paint concrete?
When painting concrete, especially if it's outdoors, it's very important to be aware of the weather conditions, and to time the job just right so that the weather is optimal for painting. So basically, it needs to be dry and warm, so that the concrete is fully dry, and the paint can be applied and then left to dry.
But how warm does it actually need to be in order for you to paint concrete?
Ideally, you should schedule your outdoor paint jobs so that they are done during the summer months when it's more likely to be warm and dry. The warmer it is, the faster the paint will dry, but also the better it will dry, as the cold can cause it to form cracks!
Also, the warmer it is, the less moisture and dampness there will be in the concrete, and the better the paint will hold.
Most paints require it to be at least 50 degrees Fahrenheit warm outside, in order to be applied effectively, especially coatings that are water-based. However, there are some paints that can be applied in temperatures as low as 35 degrees Fahrenheit, so it's all about finding the right paint for the right circumstances.
When can you walk on painted concrete?
Once you've painted the concrete, you need to wait until it is fully dry before walking over it or placing things on top of it. On average, the first coating of paint will take around 12 hours to fully dry, during which time it should be left to dry undisturbed.
If you're adding extra coatings of paint, they might take the same amount of time, or slightly less, and they should also be left to dry undisturbed.
And to finish off the paint job, you will usually use a top coating or sealing layer, and it's important to check the information as each will take a different amount of time to dry, on average.
But on top of this, if you want to avoid the risk of scratching the newly painted concrete surface, you should wait around 7 days before walking over it with shoes or placing furniture on it.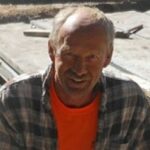 Jim Bettesworth well known for his can-do attitude and often takes jobs other companies were unwilling or unable to do. Experienced and educated in concrete construction and painting jobs. Read More.