When left to fend for themselves, decks and patios become faded and stained by the elements. A quality deck paint will preserve your outdoor structures while improving their overall appearance.

Top 5 Deck Paints
We've gathered five contractor-approved deck stains and paints and paired them with a comprehensive buying guide. With the help of one of these products, you will be able to revamp your outdoor gathering space.
Defy Extreme Semi-Transparent Wood Stain – Editor's Choice
zinc-oxide
particles. These robust elements shield decks from the sun's damaging UV rays. The amazing formula
also prevents mold and mildew
from penetrating deck, siding, or fence planks.
The SOC-compliant formula offers long-term aesthetic improvements.
It is available in 1- and 5-gallon containers and a variety of colorful tints. All colors dry flat. The semi-transparent color line-up includes clear, cedar tone, natural pine, light walnut, butternut, redwood, and driftwood gray.
Coverage You Can Count On
Each gallon offers roughly 100 to 150 square feet of coverage. However, coverage depends on your wood's porosity. You can apply the product using a pump sprayer, an airless sprayer, an applicator pad, or a brush.
You only need a single coat.
Dry times range from two to four hours, and a complete cure takes around one full day. Once the product is cured, it can be maintained with soap and water.
You'll want to spend the majority of your time prepping your deck. The manufacturer advertises Defy as a three-step process. Essentially, you need to clean and brighten your exterior wood surfaces before applying the stain. We recommend Defy Wood Cleaner and Brighter for these initial steps. We recommend that you re-coating your wood annually or as soon as graying appears. While you're sure to spend more on this water-based stain, the results are well worth it.
Overall, we felt that Defy was super easy to use. The application process is quick and painless.
With this product, you can show off your deck's natural wood grain while protecting it against the elements.
With seven semi-transparent stains to choose from, you also have complete control over the final aesthetics. You expect this product to last a few seasons longer than the competition.
Extend the life of your decks with this age-defying formula.
PROS
Built-in sunscreen technology protects it from fading
Resistant to mold and mildew
Eco-friendly water-base formula
Available in seven shades, including clear
100 to 150 square feet of coverage per gallon
Available in 1 and 5 gallon containers
CONS
Very limited color coverage
Kilz Porch & Patio Floor Paint – Best Porch Paint
Kilz Porch & Patio Floor Paint will spruce up your outdoor patio or deck. The 100% acrylic latex product provides long-lasting protection and aesthetic improvements for both interior and exterior floors. When dry, this finish is mold- and mildew-resistant. Not to mention, it is not easily scuffed, faded, cracked, or peeled.
Due to its unmatched durability, Kilz is an excellent product for high-traffic outdoor surfaces, including porches, patios, and even outdoor furniture. Since Kilz paint is a film-forming formula, it is somewhat susceptible to peeling.
Kilz is available in gallon-sized cans. Coverage rates vary depending on the porosity of the wood and the method of application. However, you can expect one gallon to cover 200 to 400 square feet. The product is even backed by a warranty.
Finish the Job in a Weekend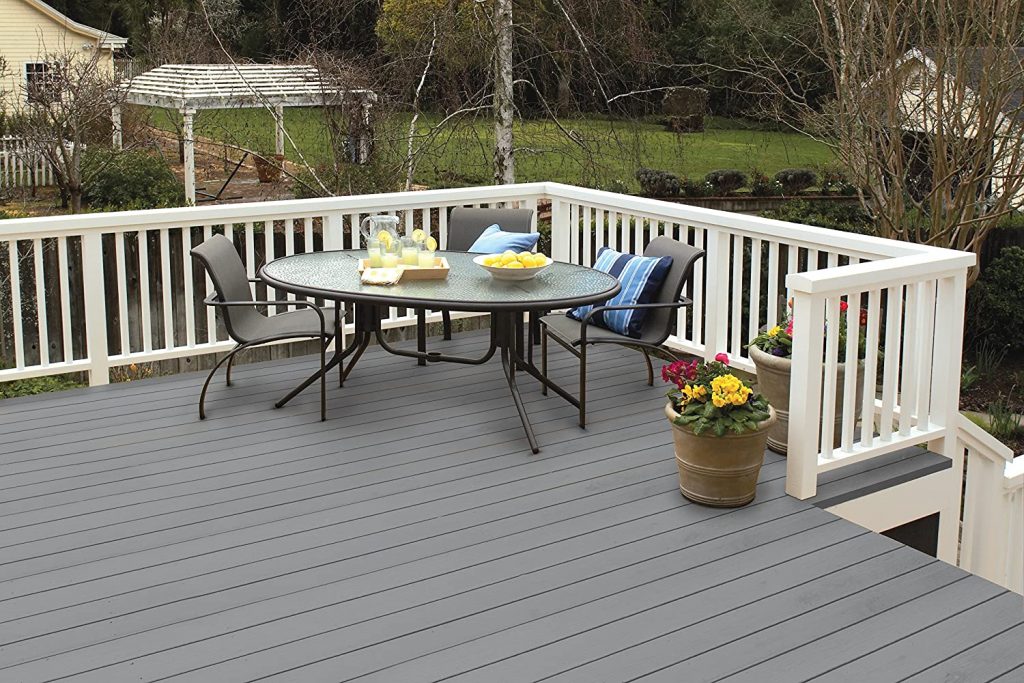 Kilz can be utilized over previously painted and primed surfaces. However, you must clean and dry surfaces before applying this product. Kilz refers to this three-step process as prepping, coating, and protecting. Kilz spreads farther on smooth surfaces. With that said, the acrylic formula can be applied with a roller, brush, or sprayer.
One of the most significant benefits to using Kilz is its rapid drying time.
In most environments, the paint will be dry to the touch in just one hour. Meanwhile, it will be ready for a second coat in four to six hours. Cure times are usually upwards of 72 hours. With that said, this floor can handle foot traffic far sooner than its oil-based counterparts.
We highly recommend this product to homeowners who are looking to overhaul their current deck or patio. The color is completely opaque, meaning no wood grain or age spots show through. It can even be applied over previously painted or primed surfaces. However, some prep work is required. Usually, we recommend using Kilz Cleaner and Brighter.

You must follow the manufacturer's instructions to achieve even coverage and a complete seal. It's best to use the product when temperatures are between 50 and 90 degrees Fahrenheit.
If you're looking to coat and preserve already aged wood, Kilz is an excellent option. Available colors include ultra-pure white, deep silver-gray, and slate gray. Our only complaint is that this product is quite slippery when it is wet.
PROS
Resistant to fading, cracking, and peeling
Low-gloss enamel coating
Dries in just one hour
Ready for a second coat in just four to six hours
1 gallon offers 200 to 400 square feet of coverage depending on surface texture of deck
Trusted brand
CONS
50 VOCs per gallon
Slippery when wet
RTG Deck, Porch, Patio Anti-Slip Paint – Best Textured Deck Paint
There are plenty of pleasing deck paints on the market. Unfortunately, it is not uncommon for them to be slippery when wet. RTG Deck, Porch, Patio Anti-Slip Paint eliminates this risk factor. This fast-drying textured floor paint offers an attractive finish with a secure footing.
Smooth Sailing
Despite its rough nature, RTG is not abrasive. Its grittiest elements are sealed within the water-based polyurethane formula. The durable coating also boasts UV stabilizers. These help to fend off sun damage and fading.
It's an eco-friendly formula with very minimal VOCs and barely any odor.
Users can choose between four attractive colors. RTG Anti-Slip Paint is available in white, light gray, sand, and clear. The product is available in quart-sized cans, each of which offers 80 to 100 square feet of coverage.
Overall, it should be easy for you to find a color that will compliment your home's exterior. The non-slip formula will give you peace of mind when entertaining guests or caring for young children. The product is made in the United States and adheres to strict environmental regulations.
If you are looking to overhaul your exterior spaces on a limited budget, RTG is an excellent option. It holds up well to the elements, including high and low temperatures, intense sunlight, and excess moisture. You only need one to three coats to renew your deck or patio. With this polyurethane formula, you never have to worry about peeling or flaking.
PROS
Suitable for high-traffic outdoor surfaces
Dries fast and easy to use
Textured finish prevents slips and falls
Eco-friendly, low-VOC formula
Prevents damage from UV rays
Traction additives are not abrasive
CONS
Lower coverage rates on textured surfaces
Does not cure well in high humidity
Cabot Wood-Toned Deck and Siding Stain – Best Wood-Toned Deck Stain
If you're a wood purist, be sure to check out Cabot Wood-Toned Deck and Siding Stain. This incredible semi-translucent oil finish shows off the natural beauty of wood grains while protecting high-traffic outdoor surfaces. It is available in five unique colors. You can use it on virtually any outdoor surface, including decks, siding, fences, and trim.
A Special Formula
Cabot Stain is a unique blend of oils and resins. It provides bare wood with unmatched protection while embracing its natural beauty.
You only need one coat of this product to transform an outdoor space.
Once you choose your desired color, you can get to work. This deep-penetrating formula leaves a flat, translucent finish. It protects the wood against common downfalls, including warping, fading, mold, and mildew.
Cabot offers two different wood stain options. A gallon of their 300 series wood stain should cover 400 to 600 square feet. Meanwhile, a gallon of their 19200 series stain offers 250 to 350 square feet of coverage.
It's best to apply this product by hand using either a pad applicator or a brush.
Overall, we were impressed with Cabot's usability. The product went on evenly and required very little effort. We prepped our wood surface before spreading the oil-based stain. The stain is resistant to UV rays and water. You only need to apply a new coat every one to two years.
PROS
Translucent oil finish that shows off natural wood grain
Deep penetrating formula repels water
Great for decks, siding, fences, and trim
Available in five wood tones
Best if applied by pad applicator or brush
Lasts 1 to 2 years
400 to 600 square feet of coverage
CONS
Not suitable for interior spaces
Do not confuse 3000 and 192000 series, as colors are different and cannot be mixed
Ready Seal 112 – Best One-Step Application
Are you looking for a one-and-done product? Ready Seal 112 is an all-in-one sealer and stain with a natural cedar tint. It provides exterior wood surfaces with unrelenting coverage. All the while, it highlights the natural grain and texture of most natural wood products.
Maximum Results
This oil-based semi-transparent treatment will help you eliminate unnecessary steps and costs while producing professional-grade results. While it is essential that you clean and strip your porch before applying this stain, a single coat of the product should do the job.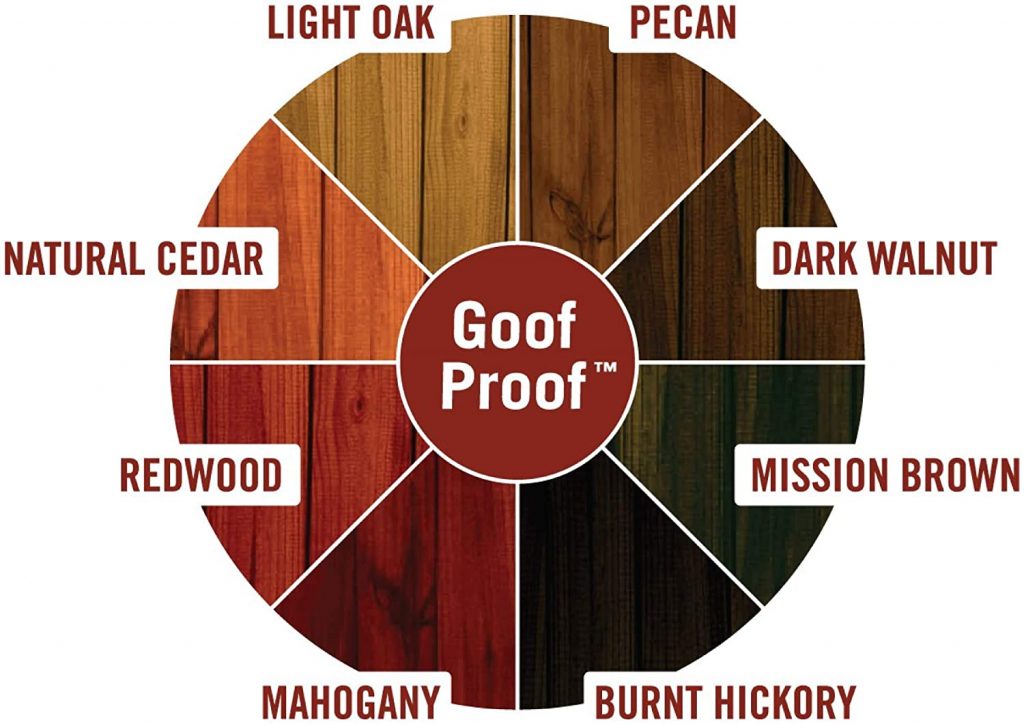 Ready Seal 112 is available in eight lovely wood tones, including light oak, pecan, dark walnut, natural cedar, and more. You may use a brush, roller, or sprayer to apply the product. The self-blending formula does not leave behind streaks or overlaps. Since color consistency varies, it is essential that you blend the contents of all containers.
Keep in mind that Ready Seal takes a long time to dry. You'll need to limit your family's foot traffic for 48 to 72 hours. Always check the weather before applying this product.
Ready Seal is 100% biodegradable. However, the manufacturer does advise users to protect their plants from drips and spray. The VOC levels are a bit high. However, they are well within the federal requirements.
Overall, most users love that Ready Seal eliminates the need for primer and sealer. You do not need to apply a wet line nor back brush the product. The product can be applied in any temperature range.
PROS
Gorgeous semi-transparent stain
A combination of oils and resins for the longest possible coverage time
Available in eight different semi-transparent colors
No thinning required
Does not leave runs or streaks (self-blending)
Can be applied in any temperature conditions
Can be applied with sprayer, roller, or brush
CONS
Lengthy drying time (48 to 72 hours)
All existing stains must be stripped
How to Choose the Best Deck Paint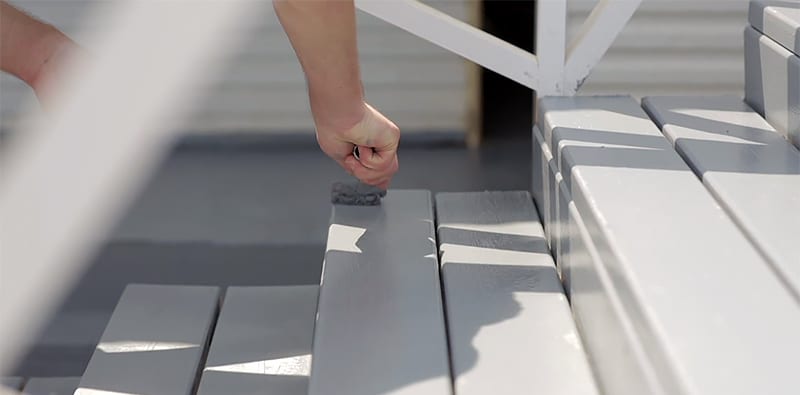 There is quite a variety of different deck paints. In this section, we'll go over the pros and cons of the two main types: oil- and water-based deck paints.
Oil-Based Stains
First up, let's discuss the traits of oil-based deck stains and paints, such as Cabot Wood-Toned Deck and Siding Stain and Ready Seal 112. Oil stains are a favorite of inexperienced homeowners. They penetrate unfinished surfaces to offer flake-free coverage that lasts roughly one to two years.
Oil-based stains offer superior coverage, with virtually no streaks or lap lines to be seen. In most cases, you must use a pad applicator or brush to apply these products. Usually, a single coat will do the trick. Soap and water are the only things you need to maintain an oil-coated deck.
On the downside, oil-based stains tend to contain harsher chemical ingredients. In particular, they are now for their high-VOC content. They also take longer to dry. If you live in a particularly humid or rainy climate, it can be difficult to hone in on a 48- to 72-hour window with virtually no precipitation. Plus, oil-based paints only last a fraction of the time as water-based stains.
Water-Based Stains

Water-based stains are safer for pets, kids, and the environment. They contain far fewer VOCs than the oil-based alternatives. Plus, most water-based stains do an excellent job of fending of mold and mildew. Many water-based deck stains, including Defy Extreme Semi-Transparent Wood Stain, contain zinc nanoparticles that fend off UV damage.
You usually have more options when it comes to applying water-based deck stains. In many cases, you can ditch your brush for a pump sprayer. Drying times are also unmatched, taking no more than 2 to 4 hours. However, you may need to apply a second or third coat.
Since water-based stains do not penetrate wood, they are more likely to chip and peel.
As such, it is essential to follow all of the manufacturer's prep recommendations.
Aesthetics
It's important to find a deck paint that aligns with your aesthetic preferences. Deck stains may be semi-translucent or fully opaque. What's more, many come in a variety of wood tones.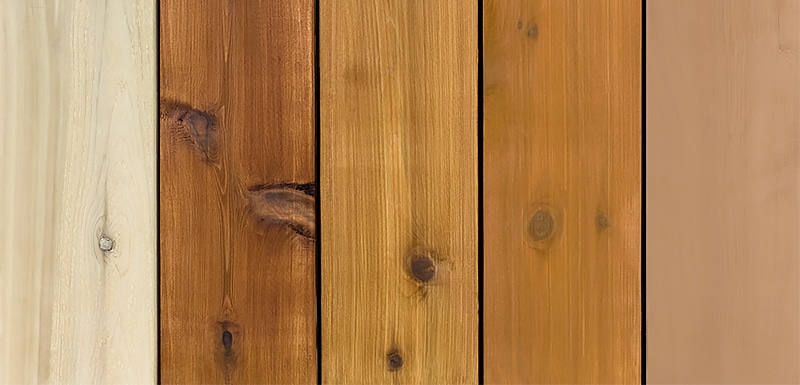 Transparent wood stains bring out the natural patina of new or slightly aged wood. Meanwhile, semi-transparent and solid stains help conceal minor imperfections, such as stains and fading.
Color options vary between manufacturers. However, most stain lines include a spectrum of natural wood shades, such as mahogany, maple, driftwood, and chestnut.
You should have no trouble finding a wood stain that pairs wells with your home.
Functions
Still, wood stains are designed to protect and preserve wood surfaces that are regularly exposed to the elements. Oil-based stains penetrate the wood to create a water- and UV-resistant coating. However, many of these products contain resins that vulnerable to mold- and – mildew. Water-based stains form a protective layer over exterior wood surfaces. They typically contain UV-blockers. What's more, they are not susceptible to mold or mildew. Some stains also contain traction boosters.
Applications
For many homeowners, ease of use is the ultimate determiner. Some stains require intensive prep. Meanwhile, others can be slapped right onto a preexisting stain. Check for stringent application guidelines before investing in a product. Some stains can only be applied within a refined temperature or humidity range. Results are often dismal when directions aren't followed closely.
Painting a Deck: Answers to FAQs
Should I choose water- or oil-based finish for my deck?
There's no right or wrong answer when it comes to choosing a finish for your deck. If your deck is sitting in direct sunlight, a UV-resistant water-based stain may be best. Meanwhile, if you live in a very humid area, a mold- and mildew-resistant oil stain will probably perform better.
Are coverage rates generally accurate?
Most manufacturers offer accurate coverage rates. However, the porosity of your wood is going to impact the number of square feet you can cover.
Are VOCs bad for the environment?
VOCs, or volatile organic compounds, are harmful to the environment. Nevertheless, they are common ingredients in oil-based paints and other home-improvement products. When these particles enter the atmosphere, they cause air pollution and smog.
What's the best product for a high-traffic area?
If your deck or patio is subjected to heavy traffic, we recommend that you invest in a high-quality water-based stain. Oils tend to wear out faster. Paints are more likely to chip and peel. Products like Defy Extreme Semi-Transparent Wood Stain protect exterior surfaces from the elements and excess food traffic.
Will a quality deck paint save my graying back porch?
No deck stain is capable of reversing preexisting damage. However, a semi-transparent or solid stain or paint is going to do a better job of concealing sun spots, water stains, and age marks. If you're looking to improve the look of your porch or patio on a budget, deck stain is a quick and inexpensive option.
Final Thoughts
Now that you've read through our deck paint buying guide, you should be ready to pick a product. We are always happy to recommend our top option, Defy Extreme Semi-Transparent Wood Stain.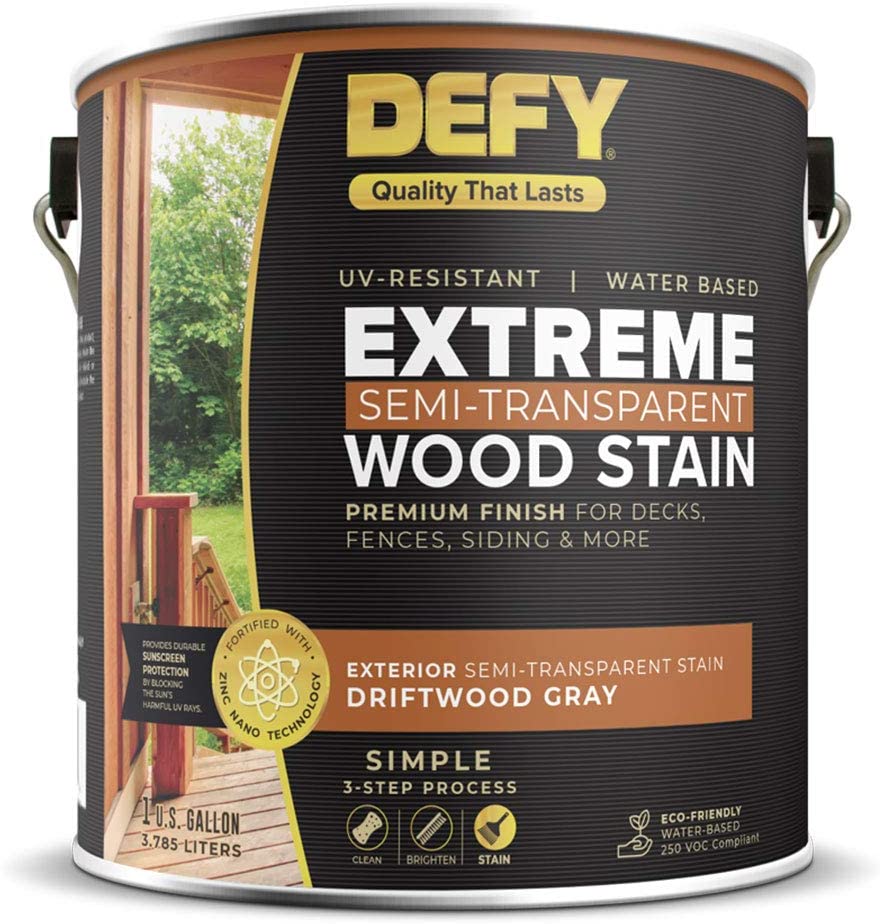 Defy Extreme Semi-Transparent Wood Stain
Built-in sunscreen technology protects it from fading
Resistant to mold and mildew
Eco-friendly water-base formula
Check Price

This water-based synthetic resin goes on easy, dries fast, and protects for years. It exhibits the natural texture of wood while concealing minor age marks. Your friends will think you hired a professional! Of course, all five of our recommended products are sure to please. Just be sure to read our buying guide before selecting a product for your outdoor deck or patio!