A porch has always been something that can be associated with quiet time free from distractions and any worries. Those who want to have some rest and relaxation, can always go to a porch in the afternoon and staying there for a while might bring peace to your mind. To make sure this place remains the most calming corner of your house, you should take good care of it.
One of the most common types of materials that are used for porches is concrete. It is cheap and durable, so it is not a surprise that it is one of the most popular choices among house owners. But after some time of using it, many people notice how boring its color is and decide to change the situation and paint their concrete porch.

Our Top 5 Outdoor Paint for Concrete Porch
If you are in the same situation and would like to change the color of your concrete porch, then you should find an appropriate paint for the surface. Here, you can find the best paints for porches and their descriptions so you could pick the best material for painting your porch.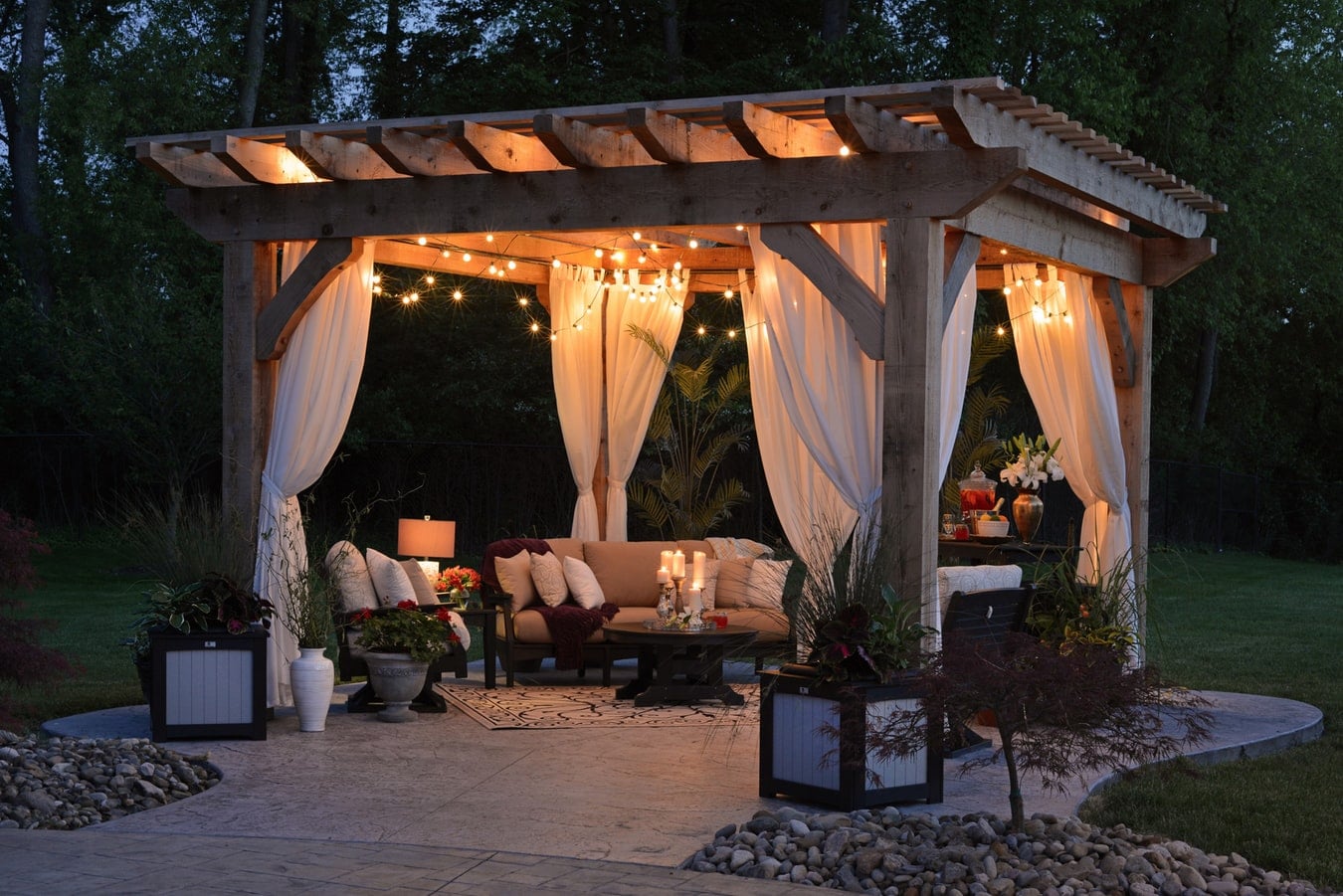 Rust-Oleum 301303 Sunset – Best Durable Paint
Your concrete porch will be covered in nice paint of the Sunset color that will please your eye
, and you will not have to spend a lot of the paint to cover the porch since the result will be soon after the first try.
No doubt, you would definitely like your porch to be painted in a color that will not lose the brightness over time. Rust-Oleum is the type of paint that no rains will be able to wash away.
It is resistant to heat and cold, all chemicals, hit tires, as well as many other things. It is one of the most durable paints on the market, so you don't have to worry that the nice color will disappear.
Rust-Oleum is fine for outdoor and indoor surfaces as well. So you can use it not only for your porch but for other parts of your house. Since one gallon of the paint would be fine to paint a porch, you can use the leftovers for painting something else. Even though the price is not cheap, it is still worth the money.
PROS
Durable
Water repellent
Appropriate for many surfaces
CONS
An additional roller is required for painting with this product
Expensive
INSL-X CST211009A-01 TuffCrete – Fast Dry Effect
After the paint is applied, there is a very smooth effect. It feels nice when you touch it, and the color will look like it was promised by a manufacturer. This product is appropriate for interior, exterior, and horizontal surfaces, so if it is in your plans to paint only your porch but also other areas in your house, you should consider buying INSL-X as well.
It will look nice on all kinds of surfaces, so you can use it without hesitation on walls or floors.
INSL-X paint can cover up to 500 sqr. per ft., so one gallon of it should be enough to cover your porch: probably some of it will be left, so think about where it should be used after you are done with the porch. It can be applied with the help of many instruments: roller, brush or spray. Depending on the effect you want to have, choose the method that works best for you. It dries out fast, so the final result will be seen pretty soon.
PROS
Affordable
Covers big area
Dries fast
Water and dirt resistant
CONS
It is not resistant to hot, so you can't use it in a hot area
Floor -Tex 40 Textured Concrete Coating – Non-Slip Coverage
It will cover around 500-600 sq. per ft. with one coat
, but it is always better to apply at least two coats, so the truth is that the paint will actually cover around 300 sq. per ft.
Floor-Tex paint is resistant to dirt and water, so you can apply it even for the shower floor or pools if some of the paint is left after you are done with porch. This product will provide you with a non-slippery finish, so you don't have to be afraid to fall down because of the coating. You can apply Floor-Tex to the stairs as well since there is no risk that you will slip on them.
Keep in mind that this product is not tinted. Before using this paint, you should add epoxy-seal or water-based garage paint, and you will be good. Be aware that the custom colors are not always as you see on the website, so there might be a difference between what you ordered and what you got.
PROS
Water-resistant
Can be applied to all kinds of surfaces
Non-slip finish
CONS
Colors don't always look the way as on the picture
The coverage is smaller than promised
KILZ Over Armor Textured Wood/Concrete – Best Price
The color of the porch after your paint will remind you of a vintage wood porch
. The paint will give your porch a solid color that will not be easily damaged by anything.
If there are any cracks and holes in your porch, KILZ paint will take care of them as well.
This paint will cover all of the defects that made the porch look bad, and after you paint it you will see that it looks like a completely new porch. Of course, you can't rely on the paint to cover every crack, so if there are many imperfections in the porch, consider fixing them first before painting it.
Many customers who shared their feedback stated that KILLZ is durable and will last for a long time. It will cover around 75 sqr. per ft. at max, so definitely measure your porch first. Usually, one gallon is enough, but make sure you calculate how much of the paint you need first.
Before you apply the KILLZ paint, you should first clean up the porch very well because otherwise, the paint will not cover everything smoothly. After you clean the surface, make sure it is dry.
PROS
Durable
Easy to apply
Good price
Dries fast
CONS
At least two coats are required
You will not be able to use it for other surfaces

BEHR 1 gal. 65501 Tan Granite Grip – The Best Water-Resistant Paint
BEHR paint is going to provide you with anti-slip coverage and a nice color as well
. There will not be any risk of falling on the floor and having an accident. This product is great for those who want to take care of the safety of your house, especially if you live with kids who are used to running around. For safety reasons, BEHR could also be great for the garage floor.
This paint will not be easy to scratch off and damage since it is very solid. It is water and dirt resistant, so the effect of the paint will last for a long time and there will be no need to refresh a color soon.
It can be used outdoors and indoors for all kinds of surfaces, so you can use the same paint for other parts of your house to get nice anti-slip coverage.
PROS
Any surface can be covered with BEHR
Safe to walk on
Color as expected
CONS
You have to apply a few coats to get a desirable effect
Painting Your Concrete Porch: All the Questions Answered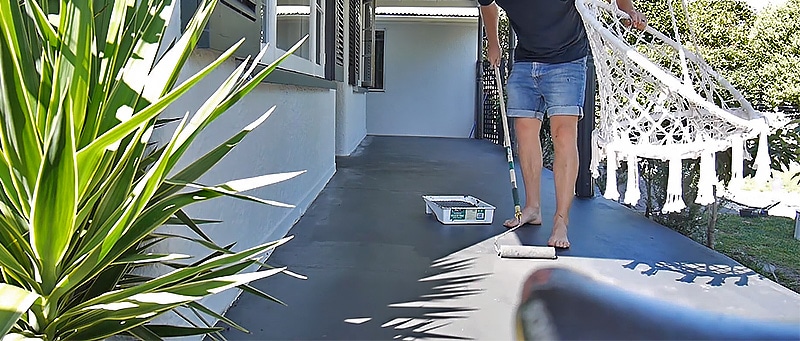 It can be hard at first to decide which paint to use and how to actually paint a porch. This is a not very complicated process, but it takes some time to understand what and how you should do the painting.
You should consider many things when choosing a paint and doing the actual painting: weather, size of the porch, the color you want, etc.
To help you not to lose your mind, here is a compilation of all the popular questions answered. Here you can find the most detailed guides and explanations on how to paint a concrete porch and choose the right products.
How to choose paint for a concrete surface?
Concrete surfaces require special paint because otherwise there might be no effect or it will not last for a long time. One of the best choices would be acrylic and two-part epoxy paints. If the surface you need to paint is used a lot and people often walk on it (floors or patios), the paint you choose should be durable.
In case you would like to paint your walls as well, you don't have to pick a paint with a strong effect. For example, you can get latex paint for your walls inside the house and acrylic for exterior walls. But when you finished painting a porch and something is left, you can use these materials to apply to other surfaces as well.
Another thing you should consider when choosing paint for the porch is how exposed the surface is to the sunlight or rains. Not all paints will be able to last for a long time if the porch is constantly under the bright sun. Things like weather conditions and heat or cold should always be taken into account since you might make a mistake if you decide to buy just regular paint.
Always remember that even when you buy nice and expensive paint, it will not be a guarantee that your porch will be painted well. To make your patio look well, first you should clean up and prime it for a lasting result. The surface will reject the paint in this case.
How to make the paint last?
There are a few steps you need to take in order to make the paint last longer. Here are some of the tips you should try to follow:
Prepare the surface. As said previously, you should first clean the surface. After that, you should sand it. And if there are any damaged parts of the surface, you should fill and level them.
While the paint has just been applied, make sure that the surface is dry for some time. Even if you use water-resistant paint, it is still best to leave the surface dry for a few hours.
Take good care of your porch. Just painting it is not enough: you should also make sure that it stays in good condition for a long time. If something breaks, repair it right away and don't wait until it will be even more damaged.
Only a few steps are required to make your paint last longer, so it is better to do all of these things than to attempt to fix the floor later.
What should I do before painting the porch?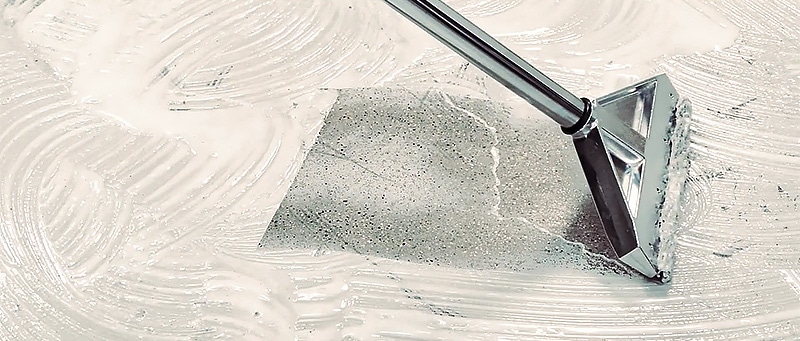 Before you apply the paint to the surface, you should first make sure that your patio is clean and free from everything. Here are the things you should do before applying paint to your patio:
Prepare the surface. Remove all of the toys, chairs, tables, as well as other belongings from the porch. It is best to put everything away for at least some time. Nothing should be left on the patio because otherwise the paint won't be applied smoothly.
Remove everything that has been growing on the surface of the porch. You can use the pressure water or just remove it by hand in order to clean the patio. If there are too many roots or vines on your porch, you can spray them with herbicide, but this should be done at least 2-3 weeks before you paint the porch.
Repair the cracks in the porch. First of all, you should make sure that the concrete is dry before you start the repair. Clean the cracks with a vacuum or broom, and after that, you can fill the cracks with the clack filler that is supposed to fully repair each hole.
If there are any flowers or other plants near the porch, consider protecting them since the paint might damage them. Cover the plants and put something on or near them that will not let the paint harm your flowers.
Remove old paint and dirt from the surface. There are many products that will help you clean the porch and make sure no dirt is left on it. But before you purchase any of them, first read the information about them and how to use these products since most of them are toxic and should be very careful when using them. Rinse the concrete surface to wash away what you did not clean before. Now, leave it so it could dry out.
How do I paint the porch?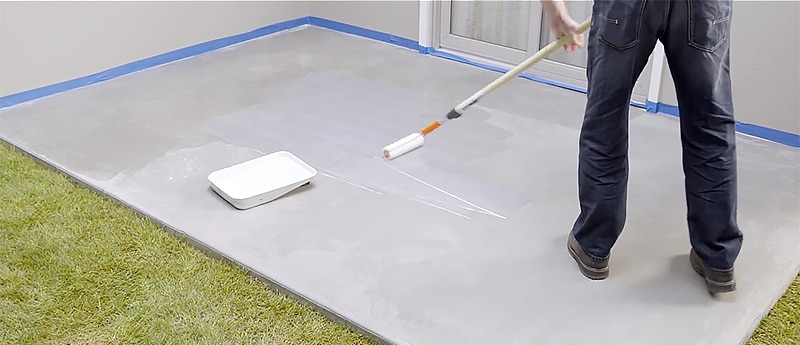 If you have a concrete porch and don't like the color of it, you can always paint it. But it is not enough just to paint it: this is a process that requires some time and effort. Here are some tips that will help you paint your porch in a perfect color that will please your eye for a long time:
Choose paint. There are many different paints and colors you can choose from, so make a wise choice. The paints that are listed above remain one of the most popular options on the market, but you are not limited only to them. Read more reviews and check out what the previous customers shared about the paints so you could make the right choice when it comes to painting your porch.
Get a primer. Some paints require a layer of a primer, so check the instructions if the chosen paint should be applied after a coat of primer. If yes, go online and find an appropriate primer for your paint.
Think about how much of each substance you need. Every manufacturer is will provide you with information about how much one gallon is going to cover. Calculate on your own how many cans you will need. You can also talk to those who have experience with painting the porch to see how much of the paint they needed.
Check the weather. To avoid a situation when you will start painting your porch and suddenly it will start raining. Read the forecast for a day you are planning to paint the porch, so there will not be any unpleasant surprises that will ruin the whole process of painting.
Apply the primer. Before you put paint on your patio, first you should prime it. Choose a thin brush or a roller for priming. It is best to start priming near the places where the patio is touching other parts of your house. Apply in two directions to provide the patio with smooth coverage. Let it dry for some time: usually, 2-8 hours is enough.
Prepare instruments for painting. You can get the paint tray and used brushes for painting your porch. Some paints require additional tools, so check out if there is a need in one before you start the painting process. Get your tools, trays, brushes, as well as other things ready for painting.
Start painting. It is always best to start applying the paint from the edges of your patio since these areas can be hard to paint. A large brush or roller will not be able to cover everything smoothly, so use smaller brushes to paint the edges and not accidentally touch anything that was not supposed to be painted.
Paint the porch with the first coat. First, you should think which starting point would be best: for example, you could start from the place where the porch touches the house. Make sure you don't paint yourself in a corner where you will not be able to move to the unpainted area.
Now, you should let the first coat dry for some time: usually around 6 hours. After that, you should apply more coats if needed. Just repeat the same steps as for the first coat of paint. Let them dry as well.
Choose the right paint for yourself
There are many different options when it comes to choosing the materials you need. First, you should always understand which kind of paint you will need to use. Even though paints for concrete surfaces are similar, still other factors should be considered. For example, for those who live in a hot climate, some paints are not going to be suitable since sunlight might damage it. Not all paints are water-repellent as well, so read the descriptions carefully.
With the help of the information mentioned above, you can paint your porch in any way that you like. Spend your money wisely and pick the paint that is appropriate for a surface that you will apply the materials on.