ThatPainter is reader-supported. When you buy through links on our site, we may earn an affiliate commission. Learn More
When I first decided to paint my basement floors, I believed that my only color option was slate gray. It was so exciting to cover up the grease stains and rubber marks on my floors. However, I was bummed that I would only be able to change the color from one shade of gray to another. When I stopped by my local hardware store, I was greeted with a pleasant surprise.

Concrete paint was available in a rainbow of colors. I've made a special list for you.

Image
Product

Best Durable Paint




Rust-Oleum Decorative Concrete Coating

Surfaces to apply on: Porches, pools, walkways, and other exterior surfaces
Durable
Water repellent
Appropriate for many surfaces

[su_button url='https://geni.us/OyJh7g' target='blank' background='#ff5b3b']Check Price[/su_button]


Check Price

Best Concrete Floor Paint (Multicoloured)




Drylok Concrete Floor Paint (Multicoloured)

Scientifically Formulated "Treatment" For Masonry Floors
It endures scuffing, moisture and washings
It cleans up with soap and water and is non-flammable
Green Wise Certified, and VOC compliant

[su_button url='https://geni.us/1Oe5fnB' target='blank' background='#ff5b3b']Check Price[/su_button]


Check Price

Water-Resistant Paint




BEHR PREMIUM Concrete & Garage Floor Paint

Surfaces to apply on: Indoor and outdoor surfaces
Any surface can be covered with BEHR
Safe to walk on
Color as expected

[su_button url='https://geni.us/7dN6kTd' target='blank' background='#ff5b3b']Check Price[/su_button]


Check Price

Excellent for Floors and Walls




Surecrete Concrete Floor Paint Colors

Excellent for Floors and Walls
Up To 400 Square Feet per Gallon Coverage
Low VOC Clear
Use on New or Old Concrete, Concrete Overlays

[su_button url='https://geni.us/hl30' target='blank' background='#ff5b3b']Check Price[/su_button]


Check Price

Best Price




KILZ Over Armor Textured Wood/Concrete Coating

Surfaces to apply on: Decks, boat docks, patios, sidewalks, and pool decks
Good price
Easy to apply
Durable

[su_button url='https://geni.us/8ei8W' target='blank' background='#ff5b3b']Check Price[/su_button]


Check Price
Drylok Concrete Floor Paint (Multi-Colored)
One of the first concrete paints recommended to me was Drylok. This durable concrete paint comes in eight premixed colors. Georgetown Gray, Dover Gray, Soft Gray, and Gull are Drylok's smokiest colors. I've listed them in order from dark to light. Nevertheless, it is worth noting that Georgetown Gray has more cool blue undertones than of the other options.

Drylok also makes two light brown paint colors. Bamboo Beige is their darkest hue, and Sandstone is their lightest. The paint manufacturer also sells two red concrete paints. These include dark Persian Red and softer Terra Cotta.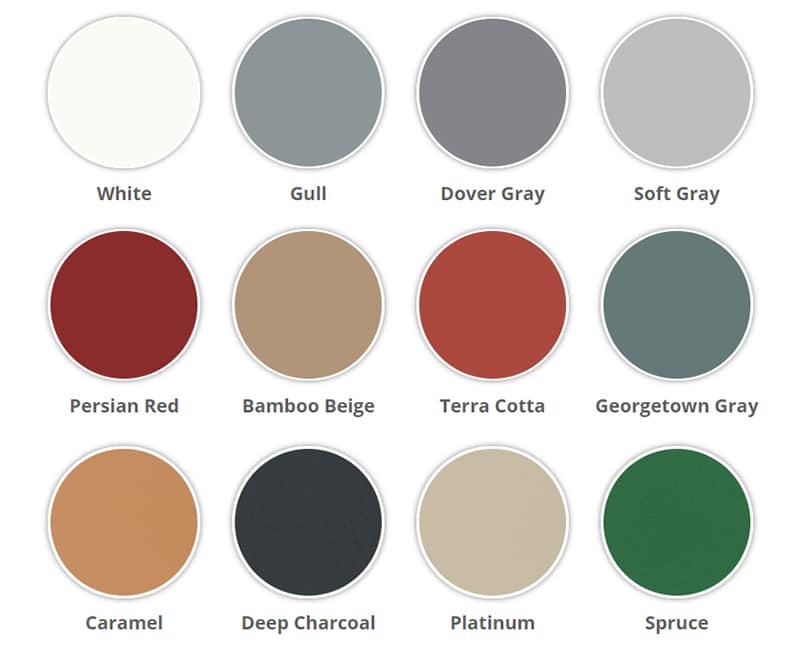 In addition to its eight premixed hues, Drylok makes a flat white base paint. This paint can be tinted in-store. As such, you can choose from nearly any color on the rainbow!
Rust-Oleum Concrete Floor Paint Colors
Rust-Oleum is another paint manufacturer that offers several paint colors. Rust-Oleum's Concrete & Garage Floor Paint comes in three premixed colors. The company's darkest paint color offering is Battleship Gray Satin. They also offer a lighter Armor Gray Satin. What's more, they offer beige paint called Sand Satin. The gray paints are available in 1- and 5-gallon cans. However, Sand Satin is only available in 1-gallon cans.

Rust-Oleum also offers satin concrete paint with a deep base.
This concrete paint is available in six different hues
. The paint line includes Brickstone, Almond Delight, Brick Red, Cigar, Cayenne, and Ginger. There are options ranging from red to blue. The line also boasts several purples and blues, including Plump Grape, Twilight Blue, Gray Sky, and Aqua Marine. For greens, there are Deep Sage, Cactus, and Pine. Black and gray options also abound with Charcoal Gray, Cocoa, and Black Night.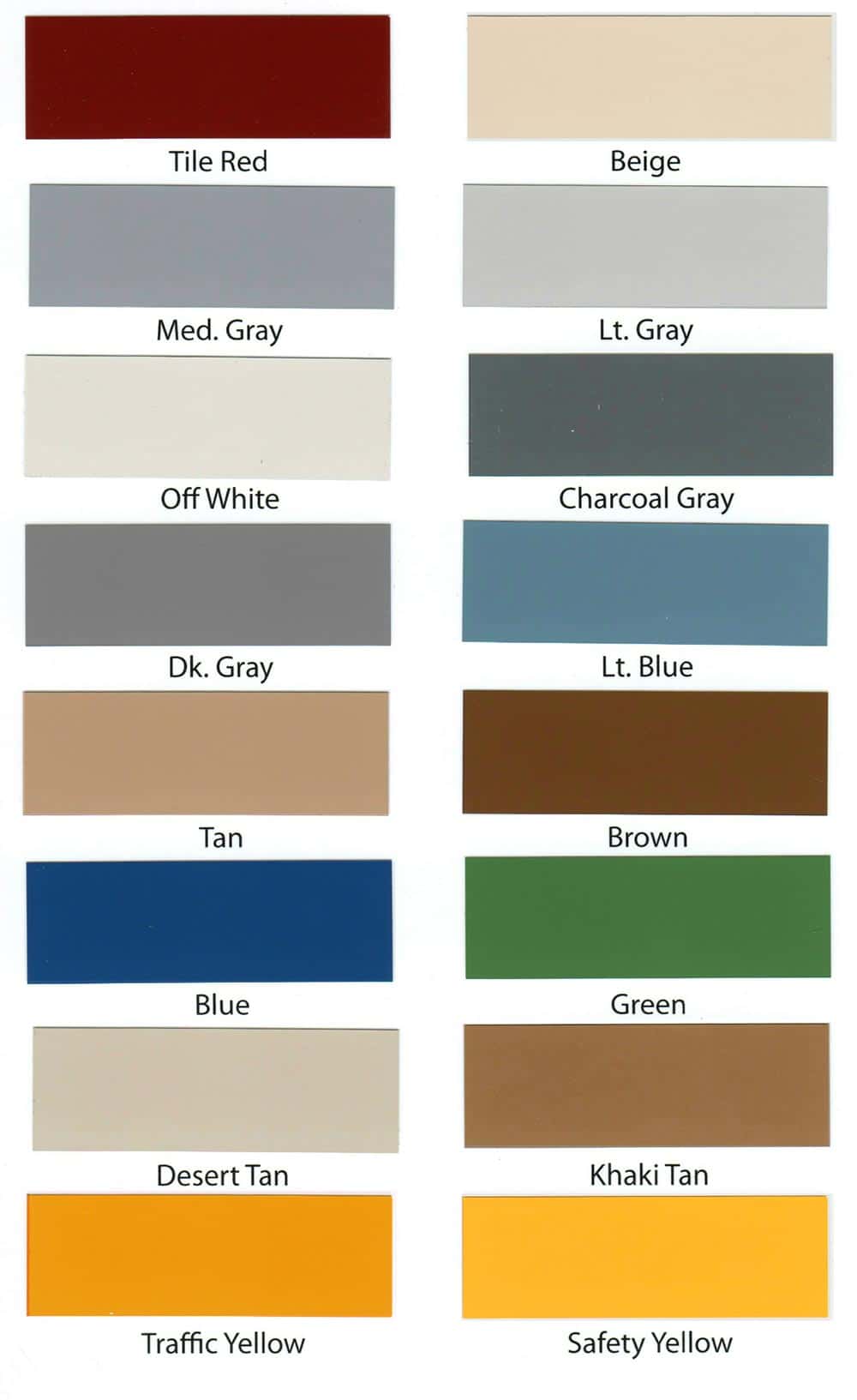 Rust-Oleum's lighter base can be tinted in an additional 14 colors. These colors consist of warm and cool pastels. The cool colors include Blue Smoke, Blue Spruce, Colonial Blue, Glacier Gray, Ice Blue, Prairie Grass, and Sage. The warm shades include Buckskin, Desert Mauve, Mexican Tile, Mocha, Saddle Brown, Sandstone, and Tan.
Keep in mind that light-base paints are ideal for creating whites and pastels. Meanwhile, dark-base paints are used to create dark colors. A paint specialist can help you determine which base is best suited for your painting project.
As if all that were not enough, Rust-Oleum also makes a metallic garage pain. This paint is very effervescent. It comes in three colors, including Gunmetal, Cobalt Blue, and Metallic Copper. While it's not technically a paint, Rust-Oleum's Clear Shimmer Topcoat can be used to add shine any base color.
BEHR PREMIUM Concrete & Garage Floor Paint
Behr also makes an extensive line of concrete and garage floor paint colors. The company's
color palette offers a glimpse at 75 different colors
. Like the previously mentioned brands, these hues include a diverse assortment of cool and hot colors. Many of them are different shades of brick red, beige, brown, blue, and gray. There are even a few subdued yellows and greens thrown into the mix. The colors have well-defined names, like New England Brick and Rusty Orange.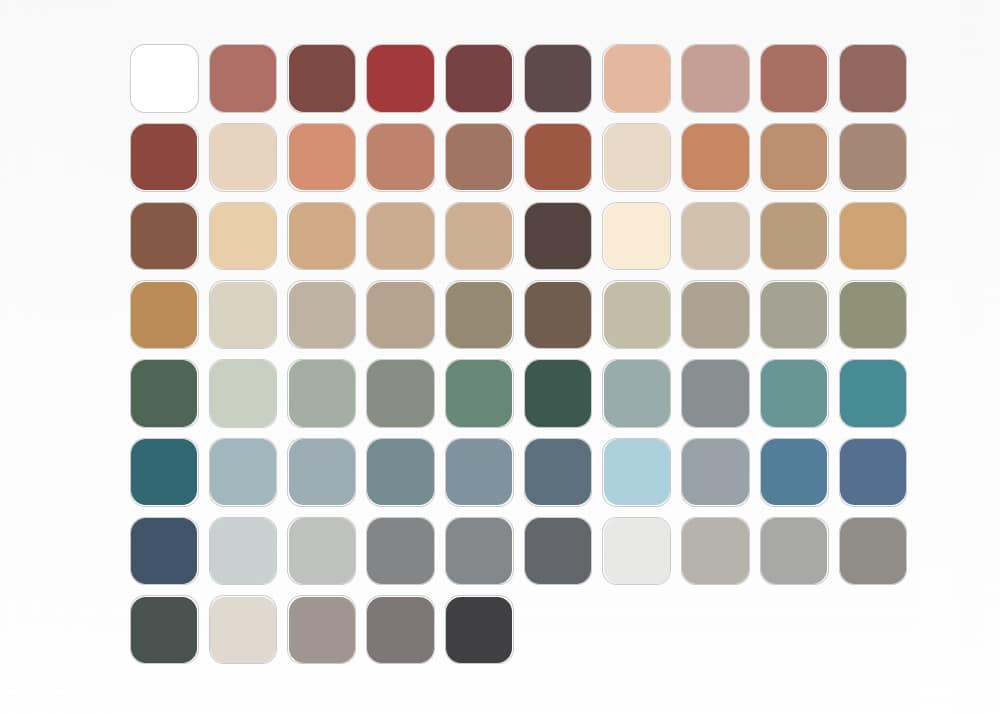 Behr also makes a decorative finish that can be applied over concrete paint. It is called Granite Grip, and it is available in 18 different colors. The colors of Granite Grip are influenced by natural stones. They include options such as Slate Ivory, Sunset Ridge, and Autumn Mountain.
See Also: BEHR Concrete and Garage Floor Paint
Surecrete Concrete Floor Paint Colors
Surecrete is yet another popular concrete floor epoxy.
It comes in 30 standard colors, including grays, reds, browns, tans, and blues
. It's also available in black and white. The base can even be tinted to a custom color of your choosing. With custom color options, there's no limit to what you can do with concrete paint.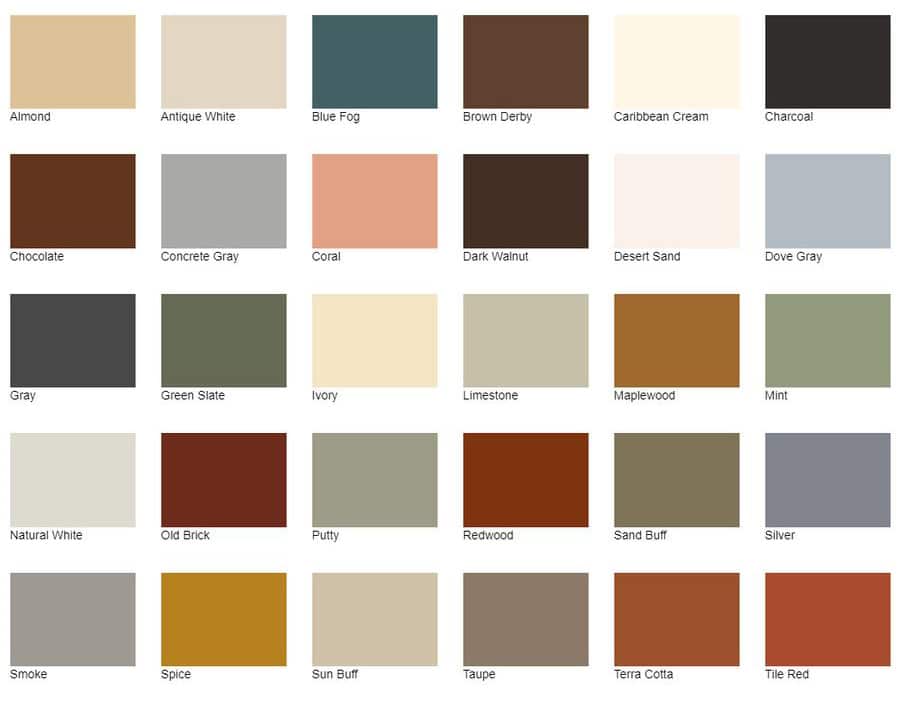 Kilz Concrete Floor Paint Colors
Kilz 1-Part Epoxy Concrete & Garage Paint comes in Silver Gray and Slate Gray. It is also available with white, deep, and tinted bases. As such, you can choose any color you like when using Kilz to cover your
concrete floors
.
Trendy Color Options
When I realized that I had color options other than slate gray, I visited Pinterest. I wanted to see which paint techniques were trending. I found many images of single-color base coats. However, I also came across many multi-colored paint designs.
Many amateur painters were using a full palette of paint colors to create bold new looks.
Popular options included faux bricks, faux slate, faux wood, and decorative stencils. There are so many unique paint options on the market. It is clear to see why so many people were embracing their concrete floors.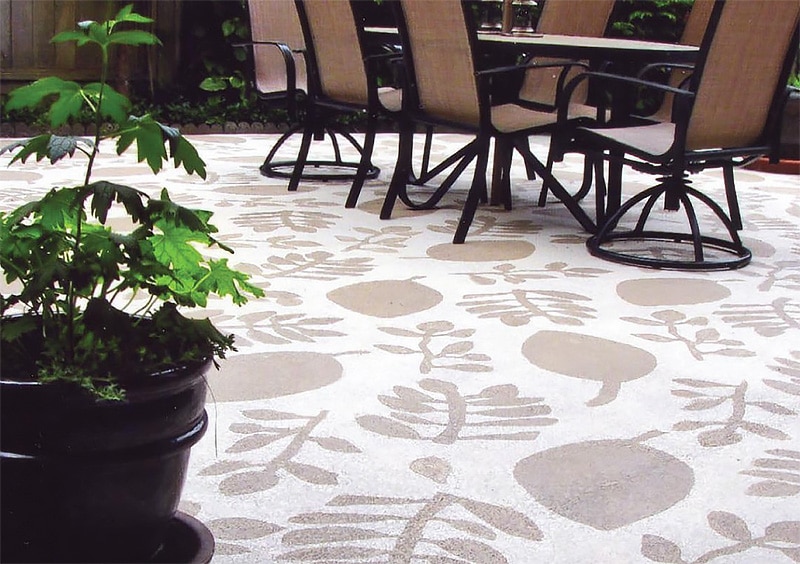 Colored concrete paint is capable of completely transforming a cement floor. Whether you're looking to renovate your kitchen or your outdoor patio, there are so many affordable ways to reinvigorate your concrete slab.
Many homeowners opt for natural colors. Colors that mimic sandstone, slate, granite, and brick are ideal for replicating nature.
If you cannot afford handmade tiles or bricks, then concrete paint may be an affordable alternative.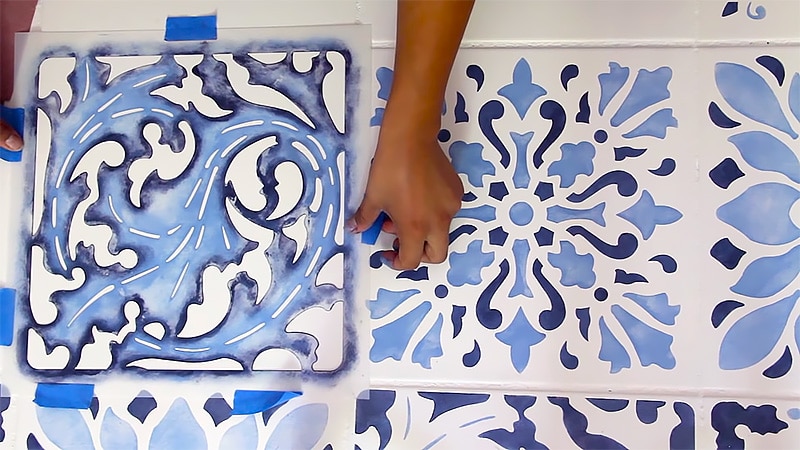 Stamping is a popular painting technique used to create faux stones and tiles.
I recommend using a combination of colors to add depth and character to your stamped concrete applications. For example, deep reds, coppers, and yellows blend nicely to create a warm slate-like look. Meanwhile, light and dark grays can be used to create faux marble. Clear or shimmery topcoats can be applied to concrete paint too. These topcoats create depth and texture.
Interior Concrete Paint Color Ideas
Before you choose a paint color for your interior concrete floor, think about your design goals. Indoor spaces are usually exposed to less light. As such, lighter shades of paint are often preferred in these spaces. Unlike concrete stains, concrete paints create a uniform coating. They also create a protective layer that fends off moisture, heat, and pressure.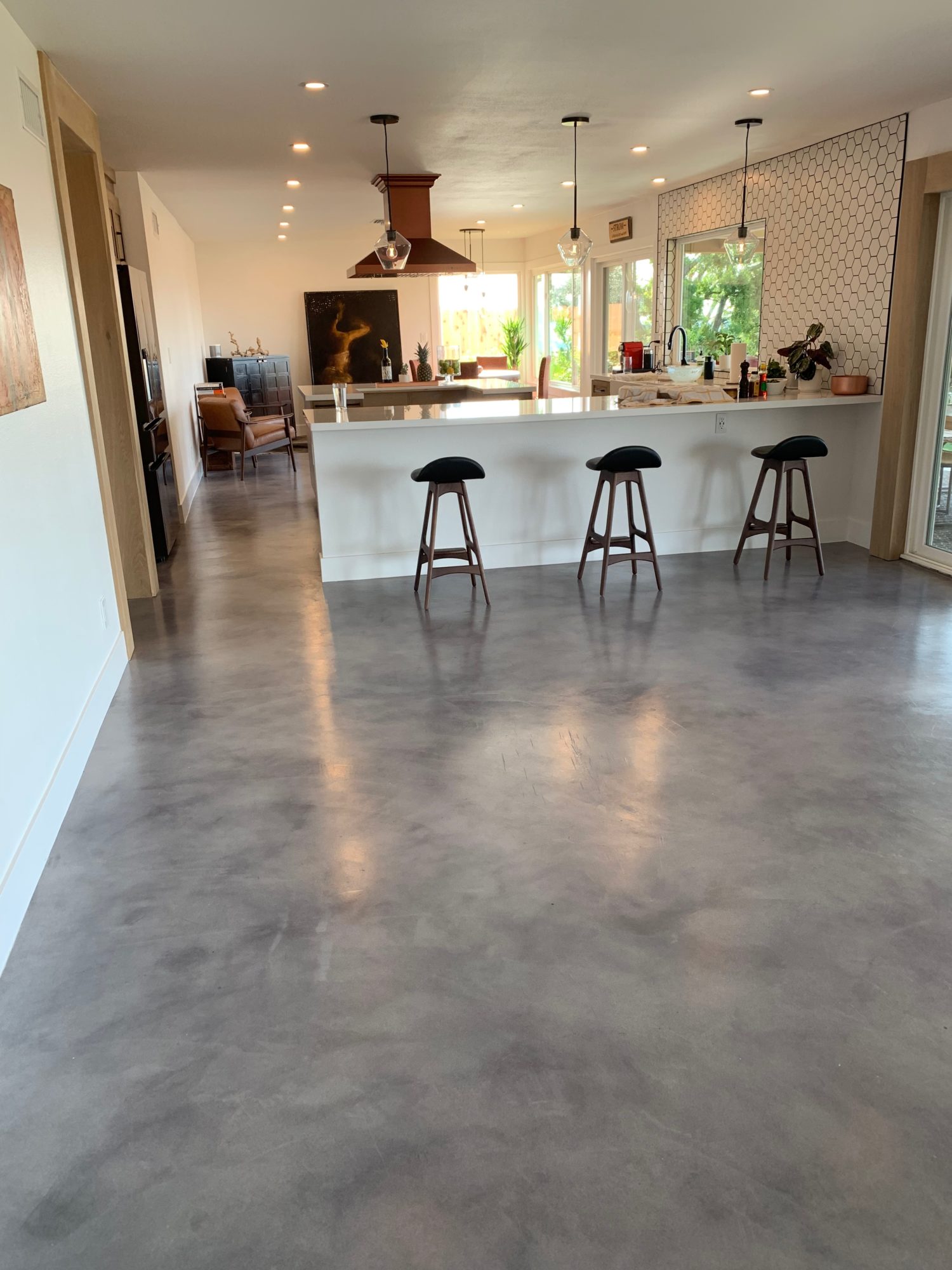 Exterior Concrete Paint Color Ideas
Dark colors are typically preferred for outdoor concrete paint applications. Colors with dark bases are less likely to fade or stain. They also do a better job of concealing blemishes, which are more likely in outdoor spaces. Most homeowners opt for deep grays and burnt oranges. Terra cotta, brick, and slate are popular options for patios and driveways. With that said, lighter colors stay cooler. As such, they are popular options for pool patios and places with the potential for barefoot traffic.
Tips on Sifting Through Color Choices
There are a lot of concrete paint color options. How do you hone in on just one? I recommend opting for a color that compliments any preexisting architectural elements. Look at the color of your home, trim, walls, roof, and patio. Choose a color that compliments these elements well.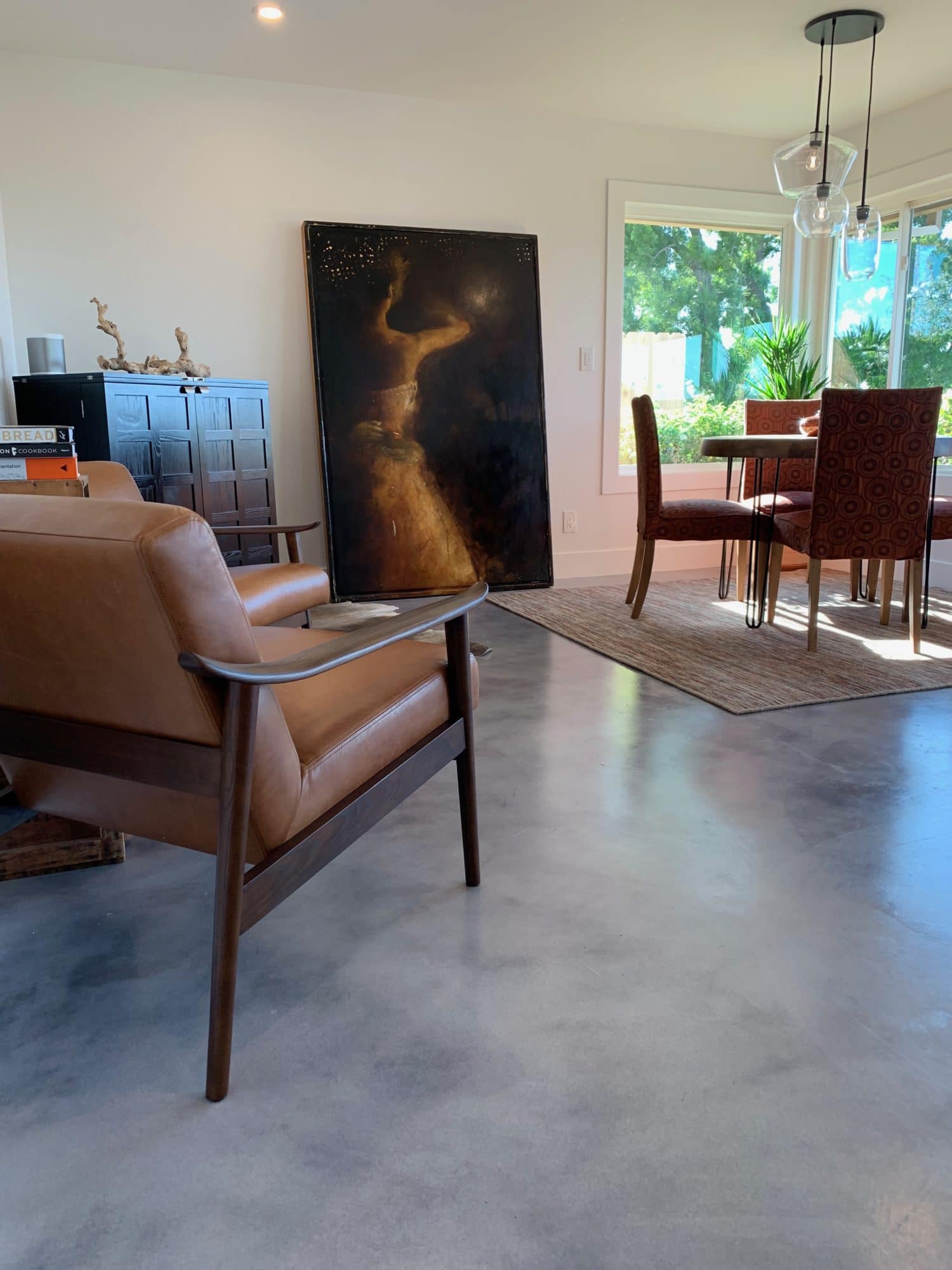 What's more, think about how a concrete floor color will affect the value you of your home. Bold, dramatic options won't appeal to all buyers.
I recommend choosing a versatile neutral.
Neutrals enable you to change up your decor. Remember, concrete floor paint lasts several years. You're going to be stuck with your paint color for a long time.
If you're having trouble picking a concrete paint, visit your local hardware store for color chips or paint samples. What's more, look through home and garden periodicals to find the perfect color palette.
If you're happy with the color of your walls or outdoor architectural elements, opt for a paint color that is the same but a few shades darker. Coordinated colors create instant harmony. Another option is to refer to a paint manufacturer's color collections. Paint manufacturers produce booklets and paint chips that feature designer-developed color palettes. Not only can these help you choose a solid concrete paint color, but they can also inspire your interior decoration choices.
PRO TIP: When choosing a floor color, you should always think about the bigger picture. How big is the room? Is there a lot of light? What sort of atmosphere do you want to create? How will you be decorating the space? I recommend that you ask yourself all of these questions before settling on a specific paint color. After all, the color you choose will have a permanent impact on the look and feel of your home.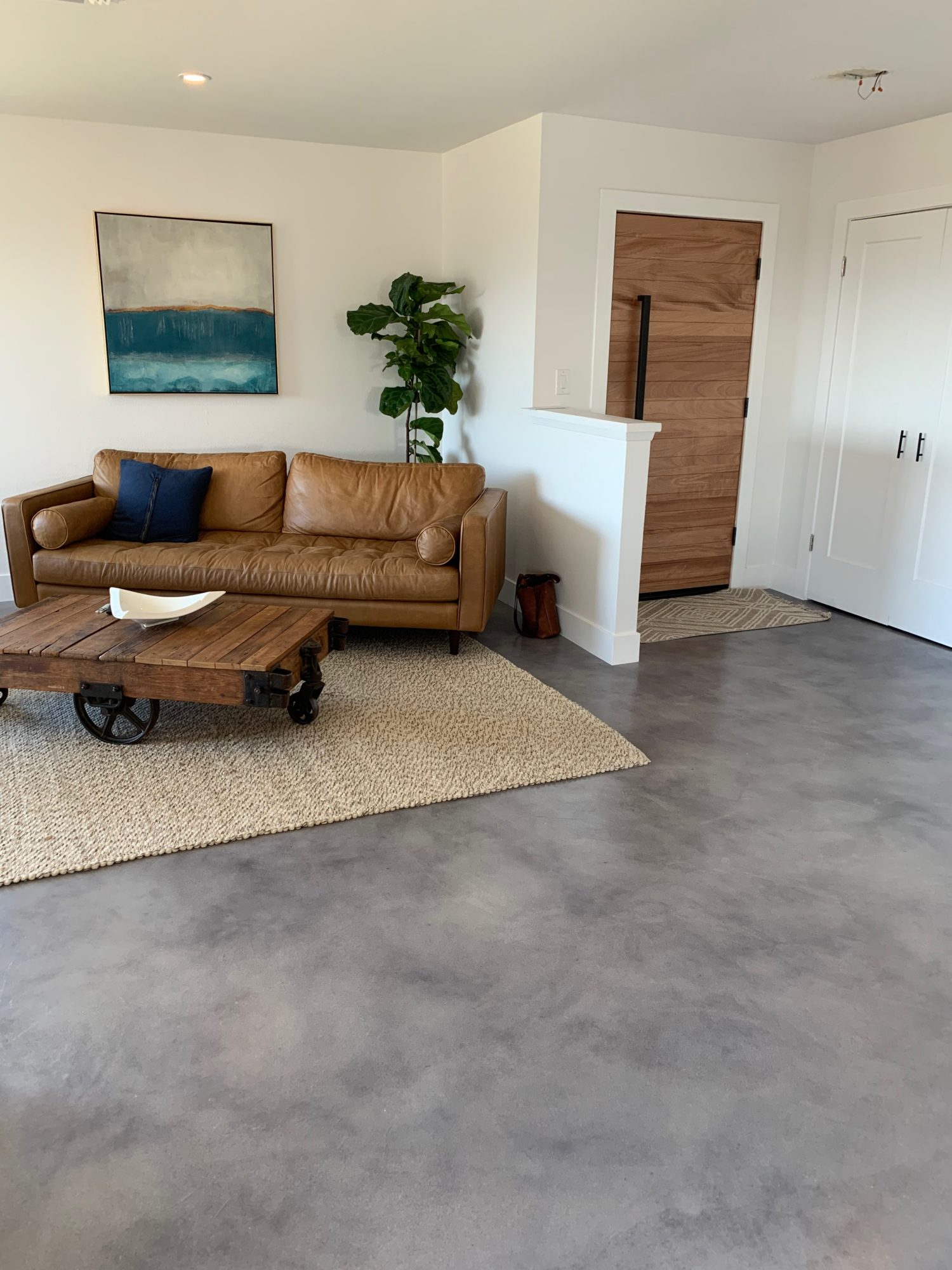 Light, neutral colors can open up space. Meanwhile, dark colors often create drama. Color choice, textures, and finishes all affect the appearance of concrete floors. While the number of color options can be overwhelming, these products are one of the main reasons we cannot stop embracing concrete floors.
Using Paint Colors to Create Artistic Effects
You can use multiple paint colors to create stunning artistic designs. From blending to marbling, there's no limit to concrete paint. You can also mimic concrete stain without shelling out the big bucks for these pricey treatments.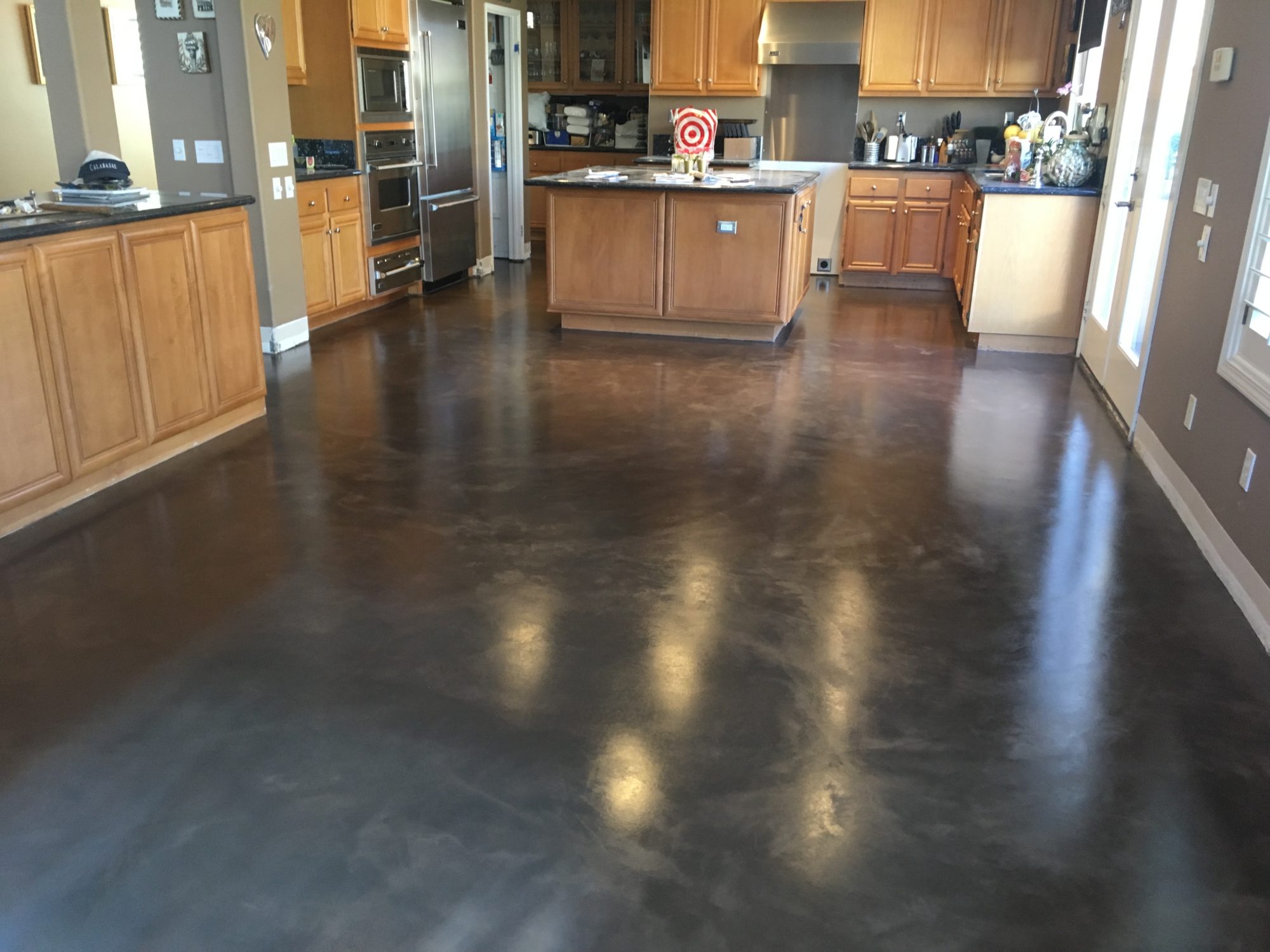 One of my favorite concrete paint designs features a dark gray base coat with white mandalas stenciled over it. This paint job was the focal point of a renovated kitchen. It's a great example of how paint can completely transform a living space.
Final Thoughts
Concrete paint completely transforms cement floors. With endless color options to choose from, there's no limit to the looks you can create. Whether you opt for basic gray or deep purple, the paint will protect your concrete while improving its overall look.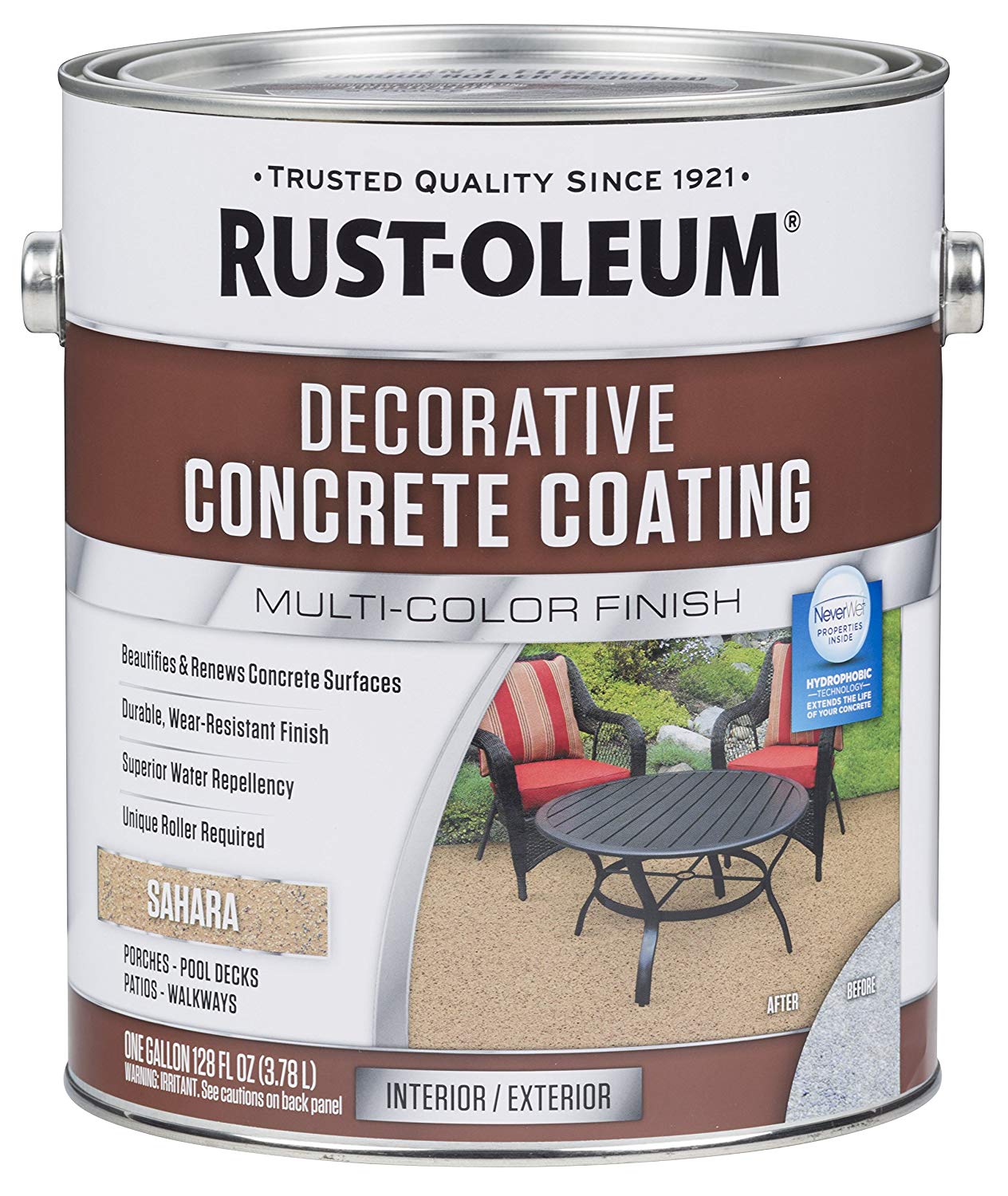 Rust-Oleum Concrete Floor Paint (Multi-Color Finish)
Best Durable Paint
Appropriate for many surfaces
Check Price


Ever since I transformed my stained gray floor into a shimmery copper surface, the compliments haven't stopped rolling in. Let us know your concrete floor paint color favorites in the comment section below!
Richard Jenkins is a 33-year-old Professional Painter that applies paint on the interior and exterior surfaces. Qualified in painting technology knowledge, physical fitness, stamina, teamwork, and attention to safety. Read More.