ThatPainter is reader-supported. When you buy through links on our site, we may earn an affiliate commission. Learn More
Home improvements require a lot of planning to ensure that things are done correctly. Naturally, that means that you need to set a reasonable budget before you start. It's important to set a budget when it comes to painting your garage floor, but how much is it going to cost you to do the work?
Thankfully, we're here to answer that question and more. Today, we're going to dive into the general costs of painting a garage floor by yourself vs how much it will cost for you to pay a professional to do it for you.
In addition to this, we will also cover a few ways that you can save some money while you're painting the floor, and how much it will cost you to buy the labor and supplies.
So, how much does it cost to paint a garage floor? Read on to find out!
How Much Will It Cost to Paint a Garage Floor?
It's pretty handy to cover your garage flooring with a little bit of epoxy paint. It means that cleaning in the garage will be significantly easier.
You won't need to worry about spending hours scrubbing up the oil leaks in your garage anymore thanks to the epoxy resin. You can find garage floor paint incredibly easily too, and it's affordable. You can usually just get it at your local hardware store.
Now, how much does it cost? It depends on the size of your garage and whether you are planning on doing some DIY or if you are going to get a professional to do the work for you. In reality, you could be spending anywhere from $300 – $3000.
The Cost of DIY
It probably seems obvious, but the most cost effective option at first glance is to paint the floor yourself. Let's talk numbers.
You've got a garage floor that measures roughly 30 feet. It's also around 30 feet wide, and you're planning on using an epoxy resin that covers roughly 500 square feet – you buy two of the epoxy kits to cover the whole garage floor.
For this amount of paint, you're going to be spending roughly $240. In general, you're going to be spending less than $300 on painting your garage floor. Pretty affordable, huh?
Hiring the Professionals
Naturally, we aren't all big fans of DIY. Perhaps you would rather watch reruns of Grey's Anatomy while you kick back with your feet on the coffee table as your spouse proceeds to shout at you because they literally just cleaned the table. In this case, you'll need the help of a professional.
Here's where you're going to need the mega bucks. You will probably need to pay around $2,000 for a professional to paint your garage floor. It's better to get a professional to do the work for you if you've never painted a garage floor before and you aren't feeling confident. There are a number of other reasons why it's beneficial to hire a professional, too.
Insurance
If you want the peace of mind that the job is going to be done correctly, you should probably get a professional to help you out. This way you don't need to worry about having an ugly finish or dealing with legal problems.
The Minor Details
A professional knows what they're doing. This means that you will get a perfect finish that will more than likely last for years on top of what you would get if you painted the garage floor yourself.
Time
Time is a limited resource, so wouldn't you prefer to spend your spare time with family instead of painting the floor of your garage? When you hire a pro, all you need is a little bit of cash and someone else will do the work for you. It's certainly worth the money.
Estimating the Costs
How can you figure out the costs for your garage floor? Here are some guidelines.
Choosing the Paint
You can get a lot of different kinds of paints for your floor. It's usually best to opt for a 2 part epoxy though. This is because this paint will last for a long time, and it's rather easy to clean.
It's the most convenient option for a garage that will probably end up covered in oil and debris a lot. If you're going to be painting the garage yourself then it's best to go online to find the paint since this will most likely save you money.
Figure out the Square Footage
You will need to know the square footage of your garage in order to figure out how much paint you are going to need. Measure the amount of space in the garage. Also keep in mind that you will most likely need more than one coat of paint to get the job done to the highest standard.
Other Tools
It's not just about buying the paint. You will need to get any additional supplies too, such as the rollers and trays, extensions, cleaning supplies and masking tape. These things can cost extra money so you should ensure that you budget for them.
Cheapest Costs
You will usually find that the cheapest kinds of epoxy paints cost roughly $.20-$5 for each square foot, and they will cover around 300 square feet. This means that you're spending about $32 for one tub.
Of course, it's best to put a minimum of two coats on the garage floor, so you're realistically getting enough product to cover roughly 300 square feet.
Usual Costs
Most people will use a 2 part epoxy when they are painting their floor. These kits tend to cover roughly 500 square feet and cost roughly $140.
You will need about two kits to cover 500 square feet, as one kit will cover 250 square feet if you do two coats. You're going to be paying roughly $.56 per square foot.
It's best to buy double the paint when you are painting the garage floor in some circumstances. For instance, you should buy additional paint if you're going to be painting a surface that absorbs water easily such as concrete.
The last thing you need is to be running out of paint when you're in the middle of working. You should try to budget for around $1-2 for each square foot that you are going to be painting, ideally.
Premium Costs
You're going to be spending a lot more money if you're paying for premium materials. Some of these paints can cost as much as $180 per gallon, and may only cover around 100 square feet. You're going to need a much bigger budget if you're paying for premium materials!
If you're painting 100 square feet and doing two coats, you're going to be spending around $360 for this kind of paint, which equates to $3.60 per square foot.
Professional Installation
It's always best to shop around when looking for professional contractors to paint your garage floor, since you will get a range of quotes from different providers.
In general though, if you have a 400 square foot garage, you will usually have to pay around $2000 for a professional to come and do the work for you. This is the equivalent of $5 per square foot.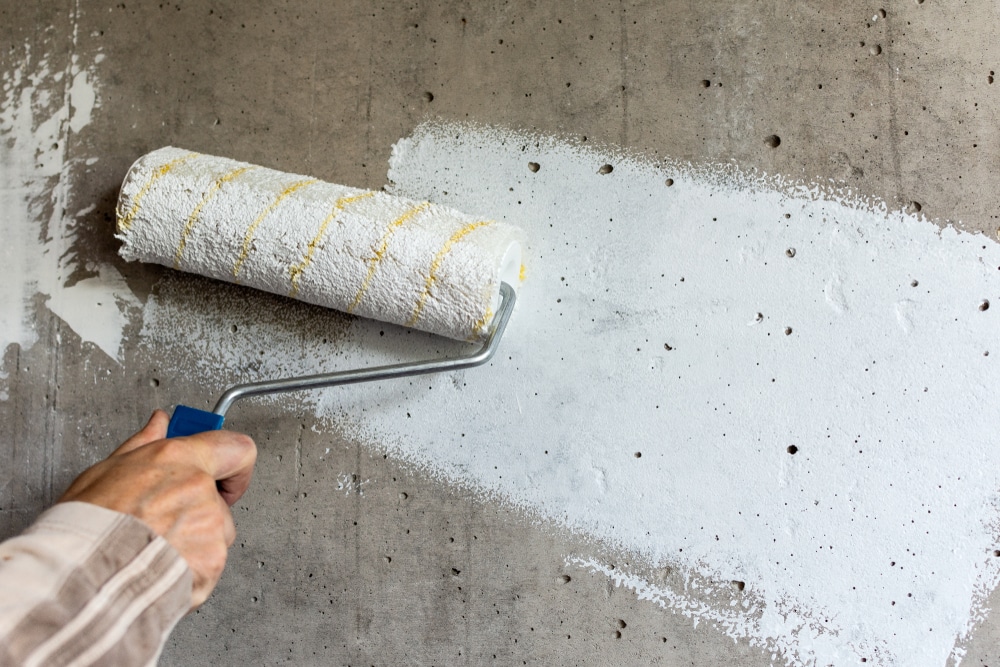 How Much Does the Paint Cost?
You should always check the measurements of your garage before you buy the paint for your garage. With that being said, you can expect to spend anywhere from $100 – $1000 on buying the paint for the garage.
Ultimately this depends on your garage size and the amount of coats that you will need to paint the floor.
Labor Costs
The next thing to take into consideration is the labor costs of painting a garage floor. It can depend on who you hire, so shopping around is important.
Do It Yourself
The most affordable option is to paint the garage floor yourself. You won't spend as much money doing this, but you will be spending valuable time on painting the garage floor if you do it yourself, which is something worth keeping in mind.
You will find yourself spending anywhere from 5 to 20 hours on painting the floor of your garage – that's a lot of time!
If you're planning on painting the garage yourself though, you should double check the temperature. The conditions need to be right when you're painting a garage, otherwise the paint job isn't going to turn out the way that you want it to.
Professional Labor
The cost of professional labor is going to be different depending on where you're from and what company you hire. You will usually find that companies will charge between $25 to $100 an hour to paint your garage floor though.
Checking online reviews is important before you hire a company, however – you don't want to be paying for labor only to find that the contractor hasn't been insured and isn't licensed.
In many respects you may find that you save some money by hiring a professional. Sure, the upfront cost is expensive. It's worth considering though that when you're painting a garage yourself, you are paying for the supplies, the paint and you may even need to take time off work in order to complete the work. Time is money!
A professional will bring the tools and paint with them in order to do their jobs, so you don't need to buy the supplies. These supplies can be pretty expensive, so you may get some good savings by hiring a professional.
Saving Money on Painting a Garage Floor
Flex Your Handiwork
The best way to save yourself money when painting your garage floor is to paint it yourself. You won't need to pay labor costs if you do it yourself, and you can keep the tools and supplies again for another day.
There is one thing to remember before doing this, however. Be very cautious about the temperature of the room. It's a bad idea to apply epoxies at high temperatures, since it can ruin the paint job.
It's best to read the instructions on the epoxy to ensure that you are doing things correctly, since it's not like normal paint. If you are cautious you will get the best results.
Sell The Leftovers
It's very easy to buy more paint than you actually need when you are painting a garage floor. In these situations, it's time to turn to the world wide web!
You should look on sites like Facebook Marketplace, Craigslist and more to sell your unused paint. People are always looking for a bargain, after all. Likewise, you can also buy other people's unused paint to save you some money.
You may even find some freebies on offer if you look hard enough! It's a very simple way to save a lot of money when you are painting a garage floor.
Conclusion
Painting a garage doesn't need to cost a fortune. At the most, you will probably be spending around $2000. Ultimately, the cost depends on the size of your garage and the kind of paint that you use. If you use a cheaper kind of paint then you aren't going to be spending as much money.
If you want to save money while you're painting the garage floor, be smart about your expenses. Choose cheaper materials and do the work yourself if you feel confident enough!
Pretty soon you'll see some immaculate looking garage floors, it just takes a little bit of time and patience! Hopefully this guide has helped you to create the right budget before you embark on painting your garage floors. Happy painting!