ThatPainter is reader-supported. When you buy through links on our site, we may earn an affiliate commission. Learn More

Coloring a concrete floor in the garage is essential. Concrete is a popular material for the floors in houses and enterprises. Despite its durability, it suffers from several negative factors:
Ultraviolet emanation
Seasonal freezing and defrosting
Atmospheric precipitates
Heavy mechanical duties
Also, the concrete surface has a hygroscopicity feature. Its structure absorbs significant amounts of moisture and soil. The material requires competent and reliable protection that can decrease the negative impacts.
Using a specialized type of paint is necessary.
Such paints can improve the exposure features of the concrete floor. They increase its durability, hide small surface defects, and protect from the negative influx of erosion (microscopic dust, dirt, and molding).
Rust-Oleum Garage Floor Paint Colors
Check full available list here on the official website.
How to Choose Paint for Concrete Garage Floor
Several factors must affect your choice:
Water-resistance. The paint must not let moisture into the floor.
Chemical resistance. People are likely to stock all the chemicals in the garage. The cars are filled with gas and engine oils that can spill. The paint must not dissolve. It must promote ease of cleaning.
Concrete adherence. Materials can stick together due to intermolecular influence. Low adhesion makes paint peel and come off the concrete surface.
Temperature change resistance. The garages are not likely to be cooled and heat. The temperature range for the concrete paints is big: from -50° С (-58° F) to 50° С (122° F).
Coverage. It is an index that shows how much paint will cover one square meter (10.76 square feet) of the surface.
Mechanical resistance. The paint must resist all kinds of forces: hitting, rubbing, and car tires and weight.
The floor must be resistant to dirtying and be washed with ease. The higher solidity of the pain composition ensures higher resistance. The garage floor paint must contain antibacterial components and resist molding and fungus.

On the market, there are two main kinds of paints, depending on the dissolvent:
1. Water-based paints with the synthetic resins. They include pigments, additions, and stuffing. Water is a bonding substance. You can use this paint only with a temperature higher than 0° С (32° F). They have all the features listed above. The durability terms equal about 8-10 years.
2. Paints with organic dissolvents (xylol, solvent, white spirit). They can be applied when the temperature is low. The air humidity can reach 80%. The main disadvantage of these paints is their flammability and toxicity. That is why they are less popular among customers.

KOLLIEE Floor Squeegee Adjustable Professional Water Squeegee Foam
Adjustable Handle length--25~50 inch (64~127 cm)
180°Adjustable Knuckle Joint
Multifunctional water squeegee
Check Price
Epoxy Garage Floor Paint Types and Colors
They are considered to be one of the best variants for concrete floors and other surfaces. They have epoxy resins as bonding elements. Such colors can be applied in almost all circumstances. They present a wide choice of coloring and a substantial number of features.
Dianic oligomers with molecular weight from 1400 to 2500 are the main components.
Also, they include stuffing, hardening substances, pigments, modifications, and other ingredients that regulate viscosity, solidity, and fluidity. The contents are determined by the type of paints. There are three of them: two-component mixtures of resin and hardening agents, powder, and aerosol materials. Two-component mixtures have about 40% of stuffing. Powder mixtures (they are also called compounds) consist of stuff for about 70% and practically do not contain modifications.
Depending on the hardening peculiarities, the paints can be divided into cold and hot types. Regular customers prefer cold resins, as they gain maximal solidity within 24 hours. Hot resins are useful when the maximal solidity is required. It is important to consider that the hardening type depends on the paint type directly. Powder paints refer to hot hardening. Aerosol and two-component paints are likely to be of the cold type.
These are the main advantages of epoxy paints:
They provide high durability for concrete surfaces
They show excellent adhesion with all surface types
They are less likely to suffer from mechanical damages, chipping, and cracking
They provide nice protection from chemical and biological threats
Epoxy paints acquire good impermeability to water and perfect hydro isolation features
Epoxy paints are a universal decision both for indoor and outdoor appliances
A wide choice of coloring and decorative components
Long-term durability and ability not to change in time
They are safe and non-toxic
Other positive features appear with the type of surface. Epoxy paints for metals have good anti-corrosion features.
The concrete paints prevent the surface from erosion and intensive dust formation.
As the epoxy paints create the thermochemical reaction during hardening, their usage implies several safety measures:
Working with epoxy paints requires special clothes, a breathing mask, and protective glasses.
Kitchen equipment cannot go for mixing the two-component paint. Use the industrial mixer or a special stick.
The paint must be dissolved with denatured alcohol and washed with warm soapy water in case of skin-damaging.
The paint can apply both with regular or roller brushes. Old paint must be eliminated beforehand. The surface must be clean. It must not contain major damages.
The location must get a good artificial or natural ventilation.
The paint must be stored within the temperature under 40° С (104° F). Direct sun rays must not reach it.
How to Prepare Concrete for Painting
Before applying all types of paint, the concrete floor (in case it is not brand new) has to undergo preliminary preparation. The procedure will help with better adhesion and will increase the durability of the new coating. Here are the main stages:
Make sure that the surface is absolutely dry. Provide ventilation or get an industrial heater.
An old layer of paint has to be removed. You can do it mechanically with a palette-knife or chemically with an appropriate dissolvent.
Then you have to remove the tarry soot and fats from the surface. Find a special chemical or make it by yourself. You can use the 5% water solution of soda ash.
Sometimes rust can come from metal constructions on the concrete floor. To clean it, wash it with water, and apply a 10% copper sulfate solution basis. You can find many specialized chemicals for more severe rust damages.
When the surface is clean, make sure it is smooth as well. Vacuum it from the dust and polish it. The major cracks and damages must be removed with specialized substances. Apply more concrete if the surface is uneven. Epoxy and silicate paints require 100% even surfaces.
Priming of the surface might be required if you want to raise the adhesion properties.
Dry out the location after all procedures. Cover all the surfaces not to be painted with tape.
How to Choose Coloring and a Pigment Type
The majority of paint types contain the coloring already. The two-component epoxy paints usually come as a set of substances to be mixed manually. The set contains the pigment chips and other decorative fillers. Nothing forbids you to buy any other set or pigment for the garage floor.
As for the decoration properties, garage floor paints depend on the circumstances of usage. If your garage is for storing and working, you are free to use more light shades. Garages with intensive automobile usage will look better with darker shades. Two colors can be considered classic: wood-like and concrete-like colorings. Here the choice will depend mostly on the garage stuffing and equipment.
There are three main types of pigments to be applied with the epoxy paints. Powder pigments come in many colors. They are likely to leave minor specks on the surface. As a result, they create an effect of an eye-shade.
Choose a liquid pigment If you would like the color to be more consistent.
Alcohol-based pigments imply little opacity so that the paint will be a little transparent under the light. On the market, you can find the pigments designed especially for epoxy paints. They are more expensive but provide stable non-transparent coloring.
Epoxy Paints and Producers
On the market, you are likely to find three types of epoxy paints: 100% solids, water-based, and one-part paints. 100% solids do not contain regular dissolvents. They harden dues to the chemical reaction between resin and hardener. The best producers are Epoxymaster and EpoxyTech. They are more expensive but provide better paint properties.
Water-based epoxy paints are represented by the best producer Rust-Oleum. These paints harden due to water evaporation. They require more attention during mixing and more care for the drying out. They are situated in the average pricing range. They still show good properties for regular usage as the garage floor paint. Water-based paints are less durable than 100% solids.
The epoxy paints sold in one container cannot refer to true epoxy paints. With relatively low prices, they provide more decorative than protective properties. They can be still the right decision for the garages without cars and regular processing inside.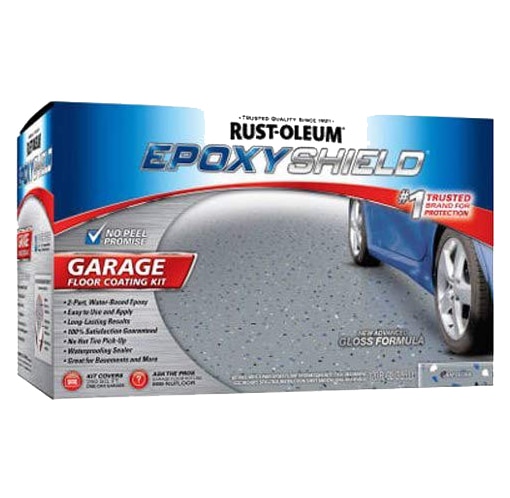 Rust-Oleum 251965 Garage Floor Kit
The kit is full
Very durable
Stylish color
Check Price
Bottom Line
The modern market can provide you with a wide choice of garage floor paints. To choose one, you need to think about what you expect from the floor. Cheap colors provide good decorative properties. Expensive variants are more durable to intensive wear. Consider the environmental factors, your professionalism, and the budget for choosing the garage floor paint.
[sc_fs_multi_faq headline-0="h3″ question-0="? The Best Paint for Concrete Garage Floor?" answer-0="Several factors must affect your choice, but the best one — Rust-Oleum 251965 Garage Floor Kit" image-0="" headline-1="h3″ question-1="❤️ What's the Best Outdoor Paint?" answer-1="Here, you can find the best paints for Ourdoor – Best Outdoor Paint for Concrete Porch Reviews" image-1="" headline-2="h3″ question-2="? What's the Best Garage Floor Paints?" answer-2="So, a solid garage floor paint must endure not the only weight of a car, but chemical pollution and various scratches – Our Top List." image-2="" count="3″ html="true" css_class=""]
Richard Jenkins is a 33-year-old Professional Painter that applies paint on the interior and exterior surfaces. Qualified in painting technology knowledge, physical fitness, stamina, teamwork, and attention to safety. Read More.