ThatPainter is reader-supported. When you buy through links on our site, we may earn an affiliate commission. Learn More
Who Manufacturers Rust-Oleum's EpoxyShield Concrete Floor Coating
Rust-Oleum is an American company with an interesting past. It was founded in 1921 by a man named Robert Fergusson. Fergusson was a captain with a ceaseless desire to keep his ship in good condition. When he accidentally discovered that fish oil prevented his metal deck from rusting, he decided to develop the first rust-resistant paint. After a few years of trial and error, Fergusson's efforts proved successful. With that, the Rust-Oleum company was born.
Robert Fergusson and his family continued their involvement with Rust-Oleum until 1994. At that time, the Fergusson family sold their company to RPM International Incorporated. Since then, RPM has continued to add new products to the preexisting line. With healthy growth and ample sales, the company has managed to pull in over a billion dollars in revenue. Today, the company operates out of its original corporate headquarters in Illinois. While Fergusson is no longer there, the company's steamboat-themed headquarters is a vibrant reminder of its founder.
Rust-Oleum's EpoxyShield Concrete Coating Review
Rust-Oleum's EpoxyShield paint line includes several premium products designed to cover concrete floors. These include tinted and clear garage floor coatings. What's more, they include prep and finishing products like Concrete Resurfacer and Penetrating Concrete Sealer.

The EpoxyShield Garage Floor Coating boasts a powerful two-part epoxy formula. EpoxyShield works well on a variety of rugged concrete floors, including garage, workshop, and basement floors. Unlike traditional latex paints, the EpoxyShield concrete floor paint is proven to resist wear and tear.
According to the manufacturer, it can even protect against gasoline, antifreeze, oil, salt, water, and heat.
While traditional paints peel and crack under such abuses, EpoxyShield maintains its glossy, professional-looking finish.
Keep in mind that EpoxyShield's formula only works well in indoor spaces. With this said, it is a low-odor, VOC-free coating. It's worth noting that EpoxyShield is also a water-based formula. Making things even more convenient, the coating dries fast. In fact, a finished floor is suitable for foot and vehicle traffic after just one or two days.
The finished result is a glossy coating with a solid base color and multicolored sprinkles. EpoxyShield is available in two bottled hues, including gray and tan. What's more, they offer a tinted base with 32 unique color option.
The Rust-Oleum EpoxyShield concrete floor coating comes in a kit. The kit includes a 30-ounce activator, a 90-ounce base, EpoxyShield Concrete Etcher, and decorative chips. The activator comes in an innovative easy-burst container for easy mixing. Each epoxy kit contains enough coating for up to 500 square feet of flooring. In most cases, a single coat of epoxy offers full, long-lasting coverage. You will need additional supplies, including paintbrushes, rollers, and preparation products. However, these are sold separately.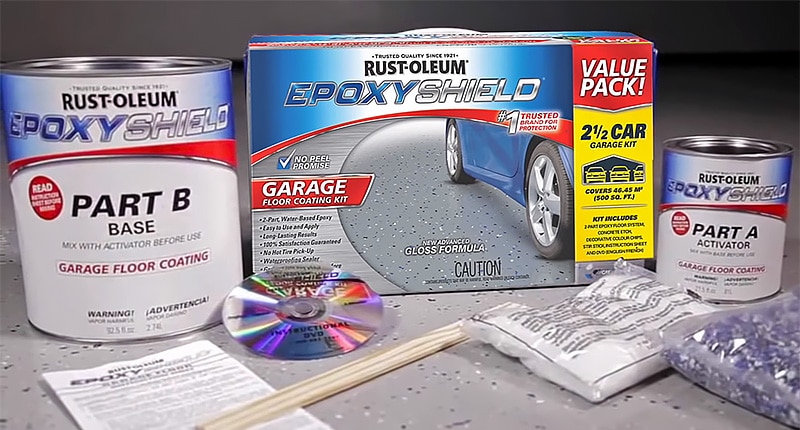 While EpoxyShield holds up in the most rugged places, the product does have a few restrictions. For one, it cannot be used on concrete floors that have not cured. According to Rust-Oleum's technical data sheet, concrete must cure for at least 28 days before being ready for an epoxy coating. On top of this, EpoxyShield should only be used on concrete floors that are in good condition and aren't susceptible to water. Furthermore, the preparation process is more intensive when working with previously coated floors.
How Rust-Oleum EpoxyShield Compares to the Competition
One of the best ways to rate EpoxyShield is to see how it compares to other epoxy coatings. In the section below, we compare EpoxyShield to some of the most popular epoxy alternatives. Before you dig in, remember that epoxy floor coatings differ from traditional paints.
EpoxyMaster is a private-label epoxy coating that is sold at Costco. According to the manufacturer, EpoxyMaster is an industrial concrete floor coating. Like EpoxyShield, EpoxyMaster boasts a two-part formula that is free from chemical solvents. A 1.5-gallon container of EpoxyMaster, which includes all the tools you need to complete a paint job, costs just under $190. One kit is capable of covering 250 square feet of flooring. This is around half the amount of coverage provided by a Rust-Oleum kit. However, it's worth noting that EpoxyShield does not include any painting tools.
<!—
Another popular alternative is
SuperCoat's two-part epoxy floor coating
. SuperCoat Liquid Floor is marketed for use in garages and workshops. It's undoubtedly a durable concrete coating that's similar to EpoxyShield. The kit includes resin, hardener, decorative chips, aggregate, degreaser, and glaze.
SuperCoat covers around 250 feet of flooring
.
Quikrete also makes a garage floor coating with a high-gloss finish.
Quikrete is known for its durability and superior adhesion
. The Quikrete kit comes with a two-part epoxy, a cleaner, decorative flakes, and a stir stick. Color options include tan and gray. Quikrete is a water-based concrete coating that must be used immediately after it has been mixed.
<!—
The previously mentioned epoxy products are popular with DIYers. They're easy to apply, require minimal preparation, and generate impressive results. Most epoxy products require a single coat and minimal drying time. While many epoxy coatings resist chemical stains and hot tire tracks, not all of them offer a lifetime of concrete protection.
As such, many consumers use clear polyurethane top coats as added reinforcement
. This extra protective layer increases the durability of epoxy without changing its appearance.
Why Should I Use EpoxyShield on My Garage Floor?
EpoxyShield is a 50% solids epoxy. As such, it is not likely to peel, crack, nor shrink over time. While 100% solids epoxy products are strong, they are also more expensive and difficult to work with. With that said, you can always reinforce your epoxy with a polyurethane sealant.

The Benefits of Using EpoxyShield Garage Floor Coating
Whether you have a garage with untreated or painted floors, EpoxyShield can dramatically improve its appearance. After all, this product is a durable consumer-grade floor coating. While it isn't quite the same as conventional paint, it is applied in the exact same way.
Consider the fact that a DIY garage floor paint job costs a few hundred dollars yet a professional epoxy job costs thousands of dollars. You can use EpoxyShield to spruce up your garage without breaking your budget. While consumer-grade epoxy is weaker than most industrial alternatives, it's still one of the strongest floor coatings on the market.
What's more, epoxy conceals and prevents the occurrence of common garage floor stains. If you're worried about gasoline, anti-freeze, or other materials seeping into and damaging your garage, then EpoxyShield is a viable solution. Unlike standard latex paints, epoxy adheres to the surface of porous floors. As such, you rarely need to worry about epoxy peeling nor cracking.
How to Use Rust-Oleum's EpoxyShield
Once you settle on a garage floor coating, you need to prepare your cement floor for painting. First, remove any objects or vehicles from the floor. Then, sweep and vacuum the surface of the floor to remove any dirt or debris. Once you're done, use a chemical degreaser to remove oil and grease spots from the floor. Finally, etch the surface of the concrete using the Rust-Oleum's Concrete Etch. This product included in the floor coating kit.
PRO TIP: If your concrete floor was previously coated, you also need to remove any chipped or peeling paint. If your concrete floor was previously sealed, you need to remove the entire seal before moving to the painting process. To do this, you will need to utilize a concrete grinder or shot blaster. Removing a floor sealant is laborious, but it eliminates adhesion issues.
Keep in mind that paints from 1978 or earlier typically contain lead. Lead is a highly toxic material. Exposure to lead results in a variety of ailments. If you have any suspicions that a preexisting floor coating contains lead, you should take extra precautions during the preparation processes. This includes wearing a NIOSH-approved respirator.
Once you have prepped your floor for painting, you need to do a moisture test. Keep in mind that concrete is a porous surface. It has the potential to trap moisture below the surface.
Any moisture trapped inside a floor will prevent an epoxy coating from properly adhering.
Tape a sheet of plastic on the surface of the concrete floor. Let it go untouched for a few hours. When you return to the test spot, remove the plastic. If the concrete is dark or moist, wait for 24 to 48 hours before painting your garage floor. If you're dealing with high humidity, consider employing a dehumidifier or industrial-strength fan.
If the concrete floor has cracks or holes in it, fill them with an epoxy-compatible cement product. Consult with your local hardware store employees to make sure that you have selected the proper product.
Once you've satisfied the prep requirements, you can finally move ahead to the painting part of the process. You'll need a painting mixing bucket, a paintbrush, and a roller. It's also a good idea to keep some soapy water and a work rag on hand.
To prepare your epoxy, gently blend the base. You want to make sure that the pigment is evenly distributed before you incorporate the activator. Once you're satisfied with the base consistency, you need to add the activator and mix it for a few minutes.
Keep in mind that you must use the activated base within an hour or two of mixing.
Use your paintbrush to produce an epoxy perimeter around your garage floor. Cover the areas that surround the walls and as well as other places that you may struggle to reach with your roller. Then, use your paint roller to spread epoxy over the remaining areas of the cement floor. Use your roller to spread epoxy over any additional areas of cement. Then, use your paint roller to spread epoxy over the remaining areas of the cement floor.
Rust-Oleum recommends using a synthetic half-inch nap roller cover on a 9-inch frame. We suggest using a roller with broom-length handle. A longer handle will give you more leverage and control. Once you've applied a small section of paint, scatter a handful of color sprinkles on the wet surface. Continue this process until your entire garage floor is covered in paint and sprinkles.

When you're finished, wash your paintbrushes and tools with warm soapy water. Use lacquer thinner to remove any dry patches. Finally, consult your local waste management company for proper paint disposal methods. Many municipalities hold annual paint collection events or have designated used-paint drop off spots.
At last, allow your paint to dry thoroughly for 48 to 72 hours. Remember, EpoxyShield only adheres properly at temperatures be between 60 and 85 degrees. If you've waited for the ideal painting conditions and prepped properly, your new epoxy coating ought to present an aesthetic improvement.
Overall Thoughts
While we were skeptical of epoxy products, we found EpoxyShield to be surprisingly easy to use. It helped that our garage had never been painted. As such, all that we had to do was clean and dry the floor before we started painting. When it came time to incorporate the mixture, we were pleasantly surprised by its faint odor. Cleaning the epoxy was easy too. We simply kept a bucket of soapy water and a rag nearby for quick cleanups.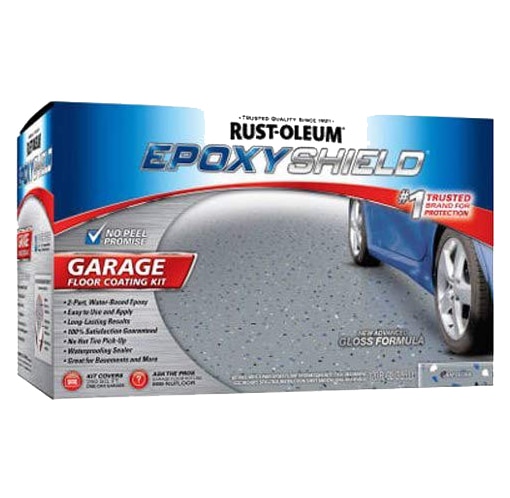 Rust-Oleum EpoxyShield Concrete Floor Paint
Powerful two-part epoxy formula
Paint is proven to resist wear and tear
Check Price


The total application time took just an hour. When we finished, we still had a substantial amount of paint left over. The finished floor had a glossy, professional look. There were no signs of the gasoline and oil stains that once speckled the surface of the cement. What's more, the wet paint liens blended together to create a seamless look.
After a few days, I was able to return my vehicle and possessions to my garage. At first, I was skeptical about how well the paint had adhered. However, nothing seemed to scratch the surface. The floor also responded well to a quick mopping. With all that said, I felt that the price for this product was fair. Meanwhile, the labor requirements were minimal.
Richard Jenkins is a 33-year-old Professional Painter that applies paint on the interior and exterior surfaces. Qualified in painting technology knowledge, physical fitness, stamina, teamwork, and attention to safety. Read More.