ThatPainter is reader-supported. When you buy through links on our site, we may earn an affiliate commission. Learn More

Drylok Concrete Floor Paint is manufactured by United Gilsonite Laboratories (UGL) in Scranton, Pennsylvania. UGL has been manufacturing paints, stains, and finishes since 1932. Besides Drylok, their products are sold under the Zar and UGL labels.

UGL has a long history of innovative and successful manufacturing. In fact, they were the first U.S. company to produce a polyurethane coating. The founder, Gerald B. Payne, started the company with just $5,000 of savings and eight employees. In its earliest days, UGL produced asphalt and roofing products. The business grew rapidly, leading the business to relocate to a larger space. That space in Scranton, Pennsylvania, still serves as the company's corporate headquarters, manufacturing complex, and distribution center.
The Drylok line was introduced at the company's first international sales meeting in 1953. The line was seen as a DIY solution for waterproofing wet basements, stopping masonry leaks, protecting masonry, and protecting concrete floors. Over the course of time, products and improvements have been added to the Drylok line.
Today, UGL is managed by its fourth president. James Tate took over in 2016 after leaving his position at Scotts Miracle-Gro Company's western U.S.and Latin American regions. The company continues to produce Drylok Cement Floor Paint as well as many other home improvement products. Currently, they are relaunching their Zar line to include luxury options with custom color blends.
Drylok Concrete Floor Paint Review
According to UGL, Drylok Concrete Floor Paint is scientifically proven to treat concrete floors. In fact, it differs rather dramatically when compared to traditional paints. Check out the section below to learn more about Drylok Concrete Floor Paint and find out what we think about this unique home improvement product.

According to the manufacturer, Drylok has a PH that is similar to that of concrete. As such, it does not peel off like traditional paint. It is also
resistant to a wide range of potential contaminants, include salt from roads, grease, oil, and water
. What's more, it is a completely slip-free surface, making it an ideal application for basements, laundry rooms, and garages.
Drylok Latex Concrete Floor Paint is designed to protect and decorate masonry and wood surfaces in private industrial settings.
The formula is nonflammable, Green Wise Certified, and VOC compliant.
It is available in nine ready-mixed colors as well as a dark tinted base that is suitable for custom color blends. The paint comes in gallon paint jugs, each of which is expected to cover between 200 and 400 square feet.
The manufacturer recommends that each Drylok application consists of two coats. The first coat should be brushed on, whereas the second coat should be brushed or rolled on. It takes approximately 4 hours for each coat to dry. Therefore, most applications can be completed in a day's time.
According to customers, Drylok's smooth, creamy consistency is rather easy to work with. What's more, mistakes are easily washed off with soap and water. The concrete paint can even adhere to a damp surface. So, there's no need to fuss around when prepping to paint. What's more, Drylok is completely premixed. Therefore, there's no need to invest in extra supplies, such as paint pails or mixing sticks.
According to the manufacturer, Drylok can be used on garage floors, basement floors, brick patios, poured concrete and block patios, and wood steps. It can be used to prolong the life of and beautify these surfaces. Premixed color options include white, gull gray, Dover gray, soft gray, Persian red, Bamboo beige, terracotta, and Georgetown gray. Available tints include caramel, deep charcoal, platinum, and spruce.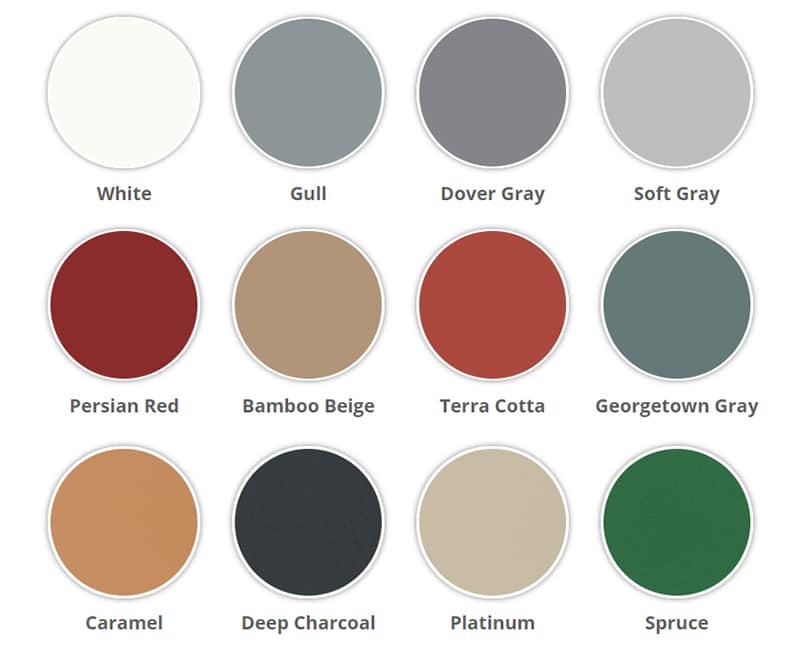 Drylok provides select surfaces with a flat, non-slip finish. Unlike traditional paint, it can withstand frequent traffic, weather, washings, and other abuses. What's more, Drylok is proven to withstand the heat of tires. On top of that, it is moisture-resistant, odorless, and generally durable. It can even be used to revitalize worn painted surfaces.
While many consumers opt to use Drylok to for complete coverage, it can also be used to stencil patterns and logos. If you're looking for a long-lasting paint to beautify your masonry floors and walls, Drylok may well be it.
How Does Drylok Compare to Other Concrete Floor Paints?
While Drylok Concrete Floor Paint is one of the most popular masonry coverage options, it certainly isn't the only one. There are several brands of latex concrete floor paints as well as other masonry paints and stains. In the section below, we'll explore some of the popular alternatives to Drylok Concrete Floor Paint and see how they compare.
Sure Step
This acrylic anti-slip concrete coating is very similar to Drylok Concrete Floor Paint. It's suitable for concrete, masonry, wood, and metal. Like Drylok, it is engineered to withstand regular exposure to foot traffic, weather, and other abuse. It is even mold and mildew resistant. Like Drylok, it is sold by the gallon. However, a gallon of Sure Step is only expected to cover around 80 to 120 square feet of flooring.

Sure Step concrete paint costs roughly half as much as Drlyok, making it the preeminent option for DIYers with a tight budget. Its formula is extremely durable and UV-resistant. It's extremely versatile, as it can be used on everything from concrete to wood. What's more, most customers find its sandy satin texture to add aesthetic improvement to commonly worn out areas.
Kilz Decorative Concrete Coating
Kilz concrete floor paint is yet another close alternative to Drlyok. It comes in a variety of decorative colors available in gallon-sized containers. Kilz is ideal for covering worn or aged concrete surfaces, like patios, porches, and garage floors.

While Kilz holds up well to the elements, it requires a minimum of two coats. With that said, a gallon of this concrete paint is only expected to cover 50 square feet. Still, it is well worth the investment if you're looking for a product that will resist scuffs, fading, cracks, and more. It's worth noting that this Kilz product is a single-component water-based epoxy.
Rust-Oleum Concrete Floor Paint
Rust-Oleum's concrete floor paint is a self-priming acrylic blend that only requires a single coat. It's resistant to fading, chipping, and staining. What's more, it can withstand the elements, chemicals, and even hot tires. Unlike Drylok, it requires at least 5 days to cure.

The final result in a slip-resistant satin finish with a stain of your choice. Like Drylok, this product is suitable for both indoor and outdoor use. What's more, it can be cleaned with soap and water.
Drylok Concrete Floor Paint
There is no shortage of concrete floor treatments and paints on the market, but our research shows that Drylok is the preeminent option. It's affordable, long-lasting, and durable. Not to mention, it comes in a wide range of color options to better fill the demands of individual consumers.
On top of that, Drlyok has a flat, slip-resistant finish that makes it suitable for a wide range of applications. It's a go-to option for individuals looking to paint their basements, porches, and garage floors. What's more, it's free from distasteful chemical smells and harmful additives. As such, its solid pick for DIYers looking for a something that goes on easy and boasts beautiful results.
How to Use Drylok Concrete Floor Paint
As an all-in-one paint and primer, Drylok is super easy to use. Skip ahead to discover the simple and straightforward steps you'll need to follow to rejuvenate your masonry surfaces.
1. Prep the Surface:
First, remove any obstacles from the surface of your masonry. Then, use a carpenter's broom and a shop vacuum to collect and remove any dust and debris from the surface you wish to paint. After that, use a heavy-duty degreaser, such as Drylok Concrete Cleaner & Degreaser, to remove stubborn substances, such as grease, wax, and oil. A wire brush or paint scraper may come in handy during this step. What's more, if stains are extremely stubborn, you may want to utilize a pressure washer. On top of that, if efflorescence (salty buildup) is present, you'll want to utilize muriatic acid before applying Drylok paint.

Drylok Concrete Cleaner
Prepares smooth concrete for painting
No harmful fumes, safer and easier than muriatic acid
Check Price


You may also wish to use soap and water to mop away any impurities. However, it is important that you wait until the surface is damp or completely dry before commencing your paint job. Keep in mind that porous masonry may trap residual moisture. If you are having difficulty drying your concrete, consider using a fan or dehumidifier to naturally speed up the process.
Never underestimate the importance of prep. A clean, dry surface is essential for proper adhesion. As such, this step is by far the most important one in the painting process!
If the masonry you're painting is old and cracked, you should also patch it with a cement compound. This will help smooth out the surface for a more uniform and aesthetically pleasing facade. Be sure to allow the filler to dry completely before moving on to the next step.
2. Find the Right Time
Whether are painting an indoor or outdoor surface, it is important to pay close attention to the weather when making a painting schedule. Humidity should be low and temperatures should be above 50 degrees Fahrenheit in order to guarantee drying time and proper adhesion. Plan ahead to ensure that all of the forecasted weather conditions are ideal for painting. What's more, ensure you have secured an adequate rain-free window for painting, drying, and curing.
3. Prep Your Supplies
Despite the manufacturer's best efforts, they cannot guarantee the color uniformity of each separate container of tinted paint. As such, they recommend that you blend multiple containers before applying.
Use a 5-gallon bucket to combine multiple containers of Drylok. Then use a large mixing stick to blend the containers together.
UGL recommends that you use a nylon or polyester brush to apply the first coat. This enables you to penetrate any deep concrete pores with paint. Opt for a quality brush in order to maximize adhesion. For your first coat, thin the paint with water. Use one pint of clean water for every gallon of paint. Be sure to mix the paint and water thoroughly to avoid creating streaks.
You may also wish to tape around your painting perimeter to ensure even, smudge-free borders. Painter's tape is also useful when creating geometric designs.
4. Apply the First Coat
Start by painting along the edges. Coat the entire perimeter with short brush strokes. Then, fill in the area inside the perimeter. Be sure to make uniform strokes that all go in the same direction. Work continuously, wiping up drips as you go. Work backward to ensure that you always have an unpainted surface behind you. It's important to avoid stepping on any wet surfaces.
5. Apply a Second Coat
Once your first coat of Drylok has dried (typically 4 hours from the application), you can apply your second. Touch the surface of the floor to ensure that it is not tacky or moist. Then, use a foam roller to cover the entire surface with paint. You do not need to thin out the second layer, as you did with the first. Simply apply the paint from edges out. Use smooth even strokes to ensure that there are no paint puddles or bubbles.
Allow the surface to dry again. This should take approximately 4 hours. Then, enjoy your revitalized cement floor!
Final Thoughts
If you are looking to enhance the horizontal masonry surfaces inside and/or outside your home, Drylok Concrete Floor Paint is an excellent option. At just under hundred bucks per gallon, this tinted floor coating provides aesthetic improvements and long-lasting protection.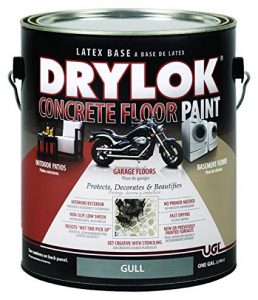 Drylok Concrete Floor Paint
Super fast drying time
Hassle-free application process
Check Price


Unlike other latex concrete paints, Drylok has a super fast drying time and hassle-free application process. As such, you can easily complete a home improvement project in a single weekend. No experience required! While it is not backed by a manufacturer's warranty, most customers attest to its unmatched longevity and premium quality. As such, we highly recommend this premium paint product for all your concrete floor painting projects!
Richard Jenkins is a 33-year-old Professional Painter that applies paint on the interior and exterior surfaces. Qualified in painting technology knowledge, physical fitness, stamina, teamwork, and attention to safety. Read More.